DANGER White House is Sad House- internal morale
The truth of the matter is that President Trump has a huge, unprecedented, and alarming problem of saying things that are false too often.-
Brent Budowsky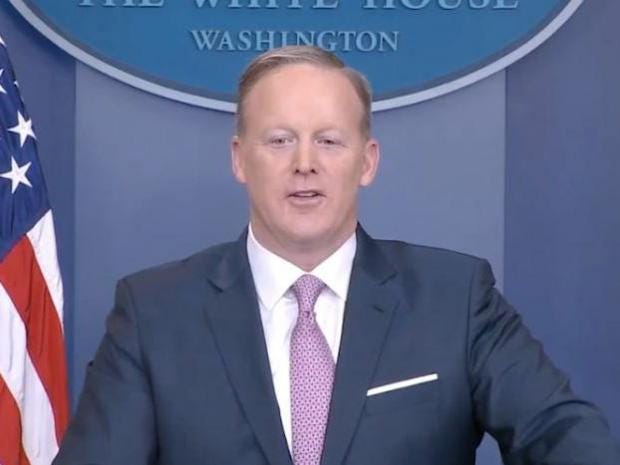 Sean Spicer's veracity become more ridiculous every day as he spends an inordinate amount of time defending lies told by Donald Trump- like voter fraud and false wire tap accusations. (In my opinion, his arguments in support of Donald Trump lies are a huge waste of tax payer money.)
It's difficult to imagine what it must be like to work inside the White House. After all, if the current morale of the nation is any indicator, the internal White House operations must be in disarray. Some evidence of this fact is the reactionary behavior of Press Secretary Sean Spicer. He's like a mirror on what the internal White House operations must be like because he just can't seem to find his stride. In other words, nobody seems to be is mentoring him.
Here's an interesting perspective reported in The Hill. Simply put, he should resign before he does any harm to his career and, by extension, to our national security.
Sean Spicer should resign as White House press secretary
One of the most dramatic news stories in the coming months will probably be one or more major resignations in protest of high-level Trump administration officials over matters of policy, practice or personnel.


The Trump administration, internally, is deeply divided on some fundamental matters of policy and vision about America's role in the world. For example, there are fundamentally different world views between Defense Secretary James Mattis and National Security Adviser H.R. McMaster, on one side, and White House adviser Stephen K. Bannon and his internal allies, on the other.The views of Mattis and McMaster versus the views of Bannon and his allies cannot be reconciled. The differences, and the dangers, will be brought into crystal-clear perspective once world events include dangerous conflicts where presidential decisions must be made and radically conflicting advice will be offered.

Is there a point where disagreements over presidential decisions on core national security decisions compel Mattis or Bannon to resign, or one of them is asked to leave by the president?

You bet there is.

Sean Spicer, the White House press secretary, is the first senior administration to be so visibly under public pressure that he is the first to face what will be a dramatic choice for others in the Trump administration: stay or leave.

The truth of the matter is that President Trump has a huge, unprecedented, and alarming problem of saying things that are false too often.

When Sen. Bernie Sanders(I-Vt.) says that Trump is a "pathological liar," he is speaking with his usual directness to say something that virtually every Republican or Democrat privately believes.

Some Republicans go very far in publicly criticizing Trump's habit of speaking falsehoods; others are more genteel in their public phrasing about what Sanders calls pathological lying, but make no mistake: Most Republicans are just as offended and worried by Trump's habit of bearing false witness as Democrats.

Spicer is a highly skilled communications professional with a well-earned reputation for integrity among those who have worked with him. He is a good man and talented professional who is now in the impossible situation of having to publicly address the press, and the people of the nation through the media, supporting or defending things Trump says or does that Spicer must surely know are false or untrue.

When I suggest that Spicer should resign, I do not mean this as a disrespect of Spicer, but as a show of enough respect for Spicer to worry that he is doing himself, and the nation, a major disservice by attaching his good name to Trump's practices of speaking falsehoods.



Trump falsely claimed Obama committed the criminal act of wiretapping Trump's phones before the election.

The entire Democratic and Republican leadership of the House and Senate, and of the House and Senate intelligence committees as well, have totally and unequivocally debunked Trump's false charge against Obama.

Spicer is forced to publicly defend and explain Trump's lie, day after day, with increasing emotion and intensity, most recently with a bizarre presentation at the White House press briefing on Thursday.

(Maine Writer- this statement is sad...)-The

press secretary is obviously under intense pressure from Trump and other senior aides in the White House to aggressively defend the president's statements

. When Spicer spent a full eight minutes at the Thursday briefing reading news stories purportedly justifying Trump's attack against Obama, he included a story that falsely accused the Government Communications Headquarters (GCHQ), a British intelligence service, of colluding with Obama to eavesdrop against Trump.

This led to protests by the British government, followed by apologies to Britain from Spicer and McMaster — further proof of how Trump's false statements and Spicer's defense of them can offend close allies and harm American security.

Does Spicer want to be the public voice of a president who often states falsehoods and never admits he is wrong?

Spicer could resign with a blast, stating in some detail why he cannot continue to work for this president, or he could resign quietly and gracefully, giving no reason and letting everyone else draw the obviously correct conclusion.

Either way, the point would be dramatically made.

Spicer would be doing a service to the president by resigning — if the president draws the right conclusions and changes his self-destructive behavior. And if this president is incapable of changing his ways,

Spicer would perform an even more valuable service to the nation by leaving.


If President Trump does not change his ways, our nation and world are headed into stormy and dangerous seas.

Brent Budowsky was an aide to former Sen. Lloyd Bentsen (D-Texas) and former Chief Deputy Majority Whip Bill Alexander (D-Ark.). He holds an LL.M. degree in international financial law from the London School of Economics. He is a longtime regular columnist for The Hill and can be contacted at brentbbi@webtv.net.
(Can't imagine what the low White House morale must be like.)
Labels: Brent Budowsky, Sean Spicer, The Hill