Wall Street Journal Obamacare graph - worth 1000 words
http://www.wsj.com/graphics/compare-aca-vs-gop-healthcare/
House GOP Health Plan - AHCA- negatively compares to the Affordable Care Act - ACA

Estimating the cost and coverage of the proposed legislation
Secretary Tom Price is totally wrong to say these analyses are undependable. (Graph below)
In fact, Dr. Price knows TrumpCare reduces benefits while driving up the costs of benefits and co-pays.
Congress led by Speaker Paul Ryan is rushing to repeal the Affordable Care Act (ACA). Those at risk of losing coverage are the people who need it most – 82 percent come from working families, and 4 million additional children would be left uninsured.
Rather than admit the obvious, Secretary Price, instead, used classic "doublespeak". He told Savannah Guthrie of "NBCToday" that all Americans will have access to health insurance coverage. HELLO? In fact, we all have access to coverage today; but many people can't afford to but the access they're entitled to receive. What Guthrie said to Price in a Today interview was, although we might have access to the ability to purchase an expensive automobile like a BMW or a Lexis, it's not the same as being able to afford to buy a luxury car. Secretary Price was caught off guard because he didn't memorize an answer to that comparisom so he called what Savannah said "a Bernie Sanders question". Soooo, hmmm? It worked for me.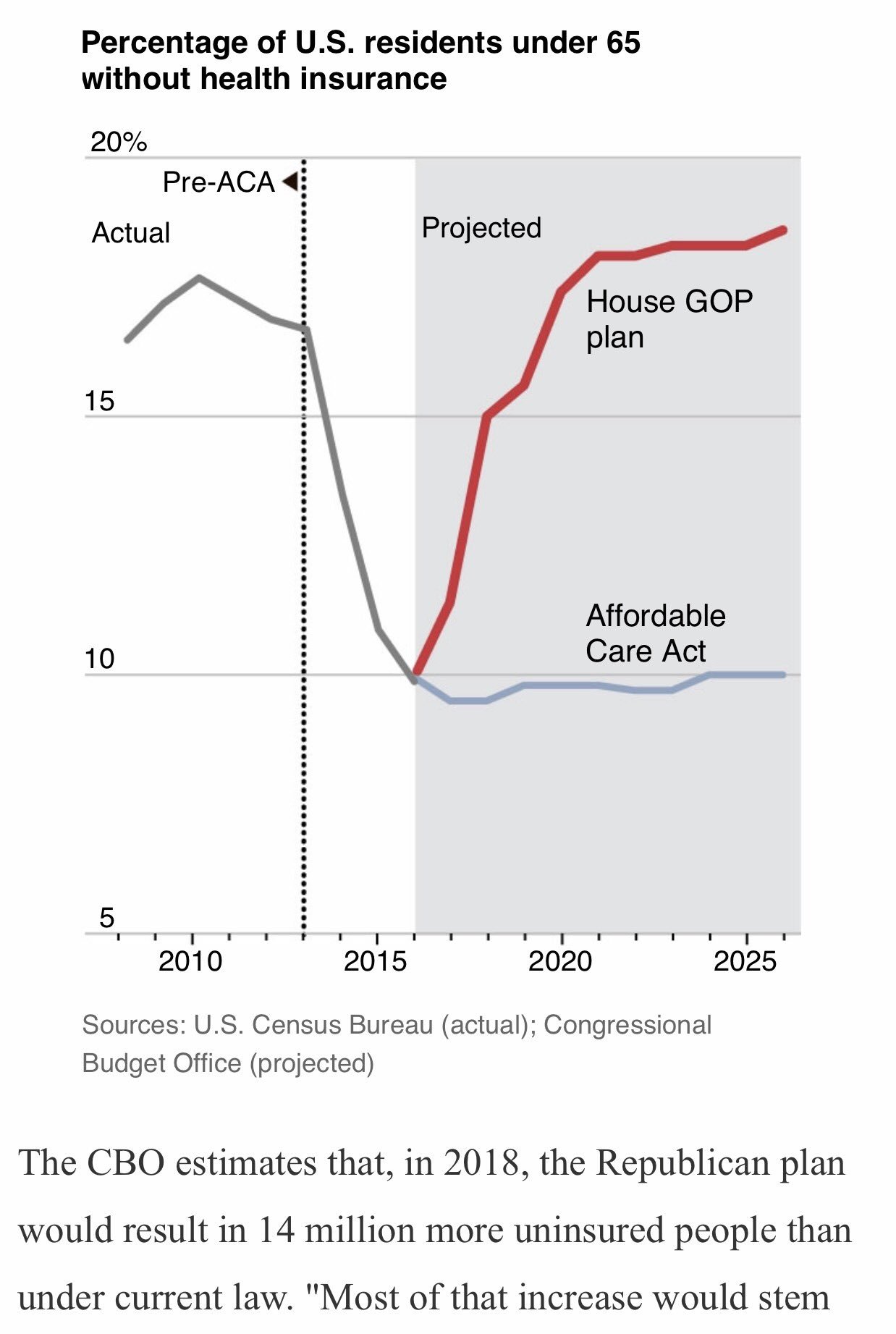 The Red Line explains the problem. Under the Obamacare coverage, the uninsured population was declining as more people were signing up for the Affordable Care Act. Under TrumpCare aka "AHCA" the uninsured numbers skyrocket. Even if the uninsured rate went up only half what the projected numbers report, the overall impact would be devastating to the health care of millions who won't be able to afford the coverage because the premiums will be adjusted upward by advancing age. By the way, the cost of this terrible legislation will be paid for by cutting Medicaid, the largest payer for long term care in nursing homes.
Moreover, the TrumpCare bill will cut health benefits to coal miners who suffer from "black lung disease".
(Pneumoconiosis)
Americans must stand up against the unnecessary repeal of the working Affordable Care Act. Instead of repeal, Congress has the power to just improve it.
In the Wall Street Journal, the graph is a picture worth 1000's of patients words.
Labels: AHCA, black lung disease, Pneumoconiosis, Speaker Paul Ryan, TrumpCare