Senator Corey Booker - only 7 days in office Trump is a repeated liar and propagandist
This Twitter exchange with Senator Corey Booker might entice those thinking about subscribing to become more involved in the exciting and fast paced 120 bite exchanges.
For the benefit of the timid social media users or those who abhor this method of communication altogether, perhaps this cut and paste exchange will ease your transition.

To be honest, not all comments on the exchange were suitable for family reading. Therefore, I did some serious triage, but included those that gave flavor to this particular Twitter conversation's trend. (Twitter is not for the timid.)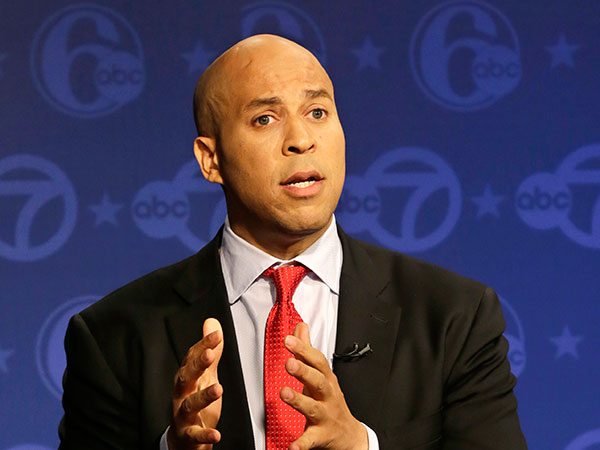 Senator Corey Booker Democrat from New Jersey on All in with Chris Hayes
Senator Corey Booker, the Democratic Senator of New Jersey, on "All in with Chris Hayes" in a Twitter conversation, some of which is pasted here for the benefit of those who are "Twitter averse":
Headline:
Sen. Cory Booker: Trump "in only 7 days in office has proved himself to be a repeated liar and a propagandist."
(I removed the senders's handles to protect their identity but they are in the Twitter feed at this url:
https://twitter.com/allinwithchris/status/824790003439972356
"All In" with Chris Hayes on MSNBC
Some of the responses to this story below:

@allinwithchris @CoryBooker @MSNBC Remember: Booker stood against Sessions & has bravery to call Trump liar. Support him #resist
@allinwithchris @CoryBooker @MSNBC I could not possibly agree more with everything Senator Booker is saying at this time. DJT is a liar.

@ArgentinaPatito @allinwithchris @CoryBooker @MSNBC As is Spicer. Hard to say who lies more Conway or Trump.

@allinwithchris @Northquahog48 @CoryBooker / I applaud Senator Booker for calling #Trump what he is. A liar.

@allinwithchris @chrislhayes @CoryBooker @MSNBC - the only reason Dems should reach across the aisle is to put repubs in a straightjacket.

@soultraveler Maybe U want 2 Make these CEOS Richer,But I want 2 send them 2 the Unemployment line!#Healthcare Is a Right,NOT a Privilege!



allinwithchris @chrislhayes @CoryBooker @MSNBC start impeachment proceedings now

@allinwithchris @LarryWilson Good for you, Senator @CoryBooker, for your honesty! @MSNBC

@allinwithchris @chrislhayes @CoryBooker @MSNBC Please move for impeachment

"

Maine Writer

" purpose in posting this blog is to reinforce the transcending euphamisms for the word "lie". Regardless of how a reader feels about Senator Booker, he as addressed at least one issue that the right wing is furious about, being the use of PC language. In the past, it was not "political correct" language to say "liar"; but thanks to the Trump cult's new world order, the word "liar" is now a popular way of saying "we support Donald Trump". In other words, "liar" is now the euphemism for Trumpist right wing #alternative_facts #fake_news and of course #Spicerfacts
"PC" or not, the four letter word "liar" is a cozy fit in the 120 word Twitter allowable bites per post. Whew! It's the right word for the Twitter universe plus! (wait! there's more!) most people understand what the word "liar" means, even if they can hardly even read.
Labels: Chris Hayes, fake news, MSNBC, PC