As the Trump turns- living in litigation
Trump cult alert! Making American great again apparantly means litigation lawyers will thrive!
http://www.cnn.com/2016/12/29/politics/trump-lawsuit-watchlist/index.html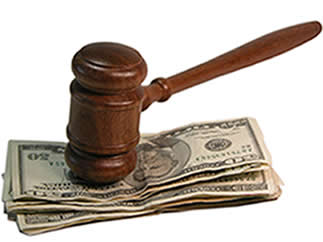 Reporters assigned to follow Trumpzi lawsuits might be unavailable to report administration news. Instead, Americans will be subject to an endless serial of "as the Trump turns"- at taxpayer expense.
Honestly? If there's one constant theme in the repetoire of Republican ideology, that would be the conceptual "theme of hypocrisy". And the litany continues. In fact, there was a time when Republicans harbored complete disdain for all things tainted by litigation. Of course, that doesn't seem to be a problem anymore, not on the dance card of @realdonaldtrump in Twitter land. Now, the Trump administration will more than likely spend our tax money on litigation for the myriad of lawsuits he faces.
Trumponian's transition to Trumpzism is an endless nightmare. Everything Republicans once convinced Americans they believed in, the concepts like honesty, truthfulness, integrity, maitial fidelity and a bunch of other self rightious concepts, not to mention "Christianity", they're all gone into "short term memory loss". Apparantly, anything Trumponian is okay, regardless of what Christian or family values happen to be trampled upon.
Litigation is now okay so long as the taxpayers are funding the legal bills. This is the highest level of Republican hypocrisy.
This is a CNN Politics report:

Trump lawsuits to watch in 2017: by Laura Jarrett


(CNN) Donald Trump is not afraid of litigation.
During the presidential campaign alone, Trump threatened to sue sexual assault accusers, The New York Times for publishing Trump's tax returns and the accounts of two sexual assault accusers,
Ted Cruz
over his citizenship
, and those who created a
"nasty" attack ad
suggesting he did not support military veterans.


None of these disputes ever materialized into an actual lawsuit -- at least not yet -- but Trump has several pending cases sitting on dockets in federal and state courts across the country as he prepares to be sworn in as the 45th President of the United States.


Trump recently ended his dispute with certain labor unions and former students of Trump University. Other cases -- such as the former refugee who sued Trump for copyright infringement over a Skittles tweet or the breach of contract claim brought by a kids' dancing troupe -- went away more quietly, with the plaintiffs voluntarily dismissing complaints earlier this month.
But several remaining lawsuits do not appear anywhere close to resolution -- leaving the soon-to-be-president not only exposed to potential financial liability, but facing a deposition or even trial once in office. Here's a rundown of some of the more interesting cases:

Restaurant deals gone wrong
Jose Andrés and Geoffrey Zakarian pulled out of agreements to open restaurants in

Trump's Washington hotel following Trump's 2015 reference to some Mexican immigrants as "rapists."

Trump sued the chefs for breach of contract, seeking over $10 million in damages apiece, and they countersued.

Trump was deposed in the Zakarian suit and is now slated to be deposed the first week of January in the Andrés case.
Andrés suggested on Twitter that the parties bring their lawsuit to an end, but so far Trump has not responded publicly.
Security issues at rallies

During the campaign, Trump referred to his rallies as the "safest place on Earth," but he faces a number of active lawsuits from those who claim to have experienced threats or violence at the hands of his security and campaign teams.

In March, three protestors claimed they were called derogatory names, shoved and punched at a rally in Louisville, Kentucky, after Trump directed the audience to "get 'em out of here." The plaintiffs have filed a complaint against Trump and two of his supporters, Trump's attorneys have filed a motion to dismiss the case, but the judge has yet to rule. Plaintiffs' attorney Greg Belzley told CNN that if the judge denies Trump's motion to dismiss, he will seek to depose the incoming president.

In a separate lawsuit, two men in Alabama sued the Trump campaign, several of his security personnel and the Birmingham Jefferson Convention Center, alleging in the complaint that they were "assaulted and beaten by an angry mob that had been incited by Donald J. Trump" at a rally in Birmingham.

In September, five Mexican human rights activists filed suit against Trump, his campaign and his chief of security, Keith Schiller, among others. The plaintiffs allege that Trump security officials, namely Schiller, assaulted them as they protested outside of Trump Tower in New York. Trump has not been deposed in the case and no trial date has been set.

Finally, a former Trump campaign staffer claims that Trump's North Carolina State Director

pulled a gun on him, and the campaign did nothing about it

after the staffer reported the incident. Described in the complaint as a "passionate" Trump supporter, Vincent Bordini sued the Trump campaign and Earl Phillip, the state director, in August, asserting several causes of action, including battery, intentional infliction of emotional distress, and negligent supervision. A trial date has been set for July and the parties remain in discovery.
Complaints at Trump's golf clubs

Trump currently faces multiple suits related to his golf clubs.
One dates back to 2013 in which members of the Jupiter Golf Club claim they were stripped of their refundable deposits after Trump's company acquired The Ritz-Carlton Golf Club & Spa Jupiter in Florida and changed the terms of membership. Both Donald and Eric Trump were deposed in the matter, it went to trial before a judge in August, and the parties are awaiting a ruling.

In an unrelated case, a woman filed a

sexual harassment lawsuit

against Jupiter in June, alleging she endured persistent unwelcome advances from the Food and Beverage Director of the club, and was then retaliated against for reporting him. The parties have submitted a joint scheduling order proposing a December 2017 trial date in that matter.

Then there is the case of a former maintenance worker at the Trump National Golf Club in New Jersey who claimed he faced intense harassment after coming out to his co-workers as gay, including having golf balls and rocks "routinely" thrown at him, according to court papers.

Melania v. Daily Mail
The soon-to-be First Lady has not shied away from lawsuits herself. Last fall, Melania Trump threatened to sue People magazine for an article accusing her husband of forcing himself on a reporter.

Then in September, she sued the Daily Mail for defamatory statements about her supposedly having been an "escort" in the 1990s. The paper printed a retraction, but the lawsuit appears to be moving full steam ahead, with Melania Trump seeking $150 million in damages and even making an in-person appearance at a routine court hearing earlier this month.

The next status conference in the case is scheduled for January 27 -- just one week after Donald Trump's inauguration.
Maine Writer wants to know? What happened to those dyed in the wool Republicans who once despised litigation? Those were the "pre-hypocrisy" times, back in the day. Obviously, Donald Trump intends to make American litigation attorneys "great again".
Labels: CNN, Laura Jarrett