Donald Trump: Vladimir Putin and Ku Klux Klan connection
After this 2016 election, the Trump labels will stick. Voters who choose to vote for Donald Trump will have to either live in denial or wear two labels of "Putin Hugger" and racist.
In addition to the evidence reported about the "Trump to Putin" Russian connections (witness the abrupt firing of Trump's former campaign chair, Manafort), the racism brand was kinkled in the recent violent Mississippi church burning.
This gruesome graphic goes on the "I voted Trump" button for those who dare to wear their decision. This burning church is the Trump political brand.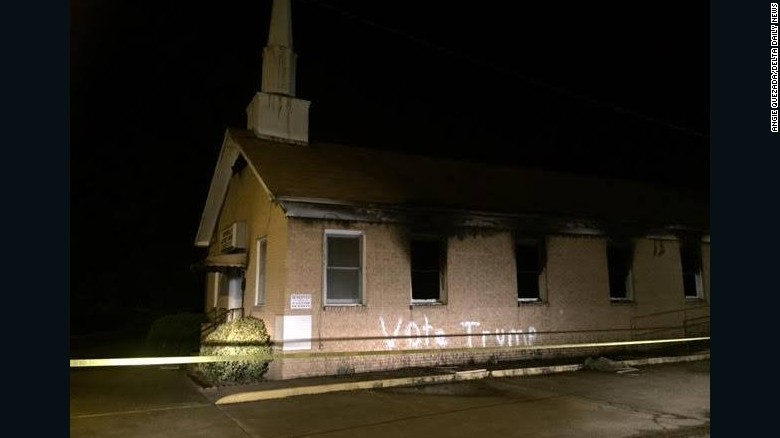 This ugly image could be the Trump political brand

(CNN) Police are investigating the burning of a black church in Mississippi during which vandals spray-painted "

Vote Trump

" on an exterior wall. A 911 call reporting the fire at Hopewell Baptist Church in Greenville, came in at about 9:15 p.m. Tuesday, police said. Firefighters quickly extinguished the blaze.

Most of the damage to the 111-year-old church was to the sanctuary, pastor Carilyn Hudson said at a news conference.

"We do believe that God will allow us to build another sanctuary in that same place," she said, though the extent of the damage was unclear.

There were no reports of injuries; no one had been in the building since about 1 p.m. Tuesday, Hudson said.
Trump voters willl find it impossible to explain or defend their brand, even after the election.
Labels: Black Church, Mississippi