Republicans must wake up and pay attention to Battle for Mosul
CNN Reports: Battle for Mosul: Iraqi forces inflict 'heavy losses' on ISIS By Nick Paton Walsh, Max Blau, Madison Park and Eliott C. McLaughlin, CNN Mon October 17, 2016
Near Mosul, Iraq (CNN): Iraq's military says it inflicted "heavy losses of life and equipment" on ISIS in a district southeast of Mosul, as Iraqi-led forces close in on the city in the long-awaited battle to recapture it from the terror group.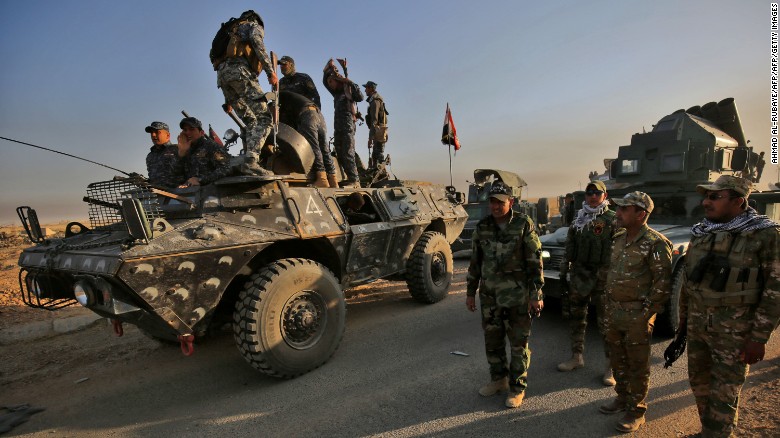 Iraq military engaged in Battle of Mosul
Hours after Iraqi Prime Minister Haider al-Abadi announced the beginning of the offensive, Iraq's military said it had inflicted losses and made advances in the Hamdaniya district.

Announcing the offensive in a televised statement early Monday morning, al-Abadi said "the victory bell has rung" in the massive mission to retake the key city, Iraq's second largest, and free more than 1 million residents from the "brutality and terrorism of ISIS."

Iraqi forces gathered in the area of al-Shourah, some 45 kms south of Mosul, as they advance towards the city to retake it from the Islamic State (IS) group jihadists, on October 17, 2016.
"God willing, we will meet soon on the ground of Mosul where we all celebrate the liberation and your freedom," said Haider Al_Abadi.

Haider Al Abadi, Iraqi politician who has been Prime Minister of Iraq since September 2014

The battle for Mosul -- the largest city under ISIS control and the terror group's last remaining stronghold in Iraq -- represents "a decisive moment in the campaign" to defeat ISIS, US Defense Secretary Ash Carter said.

As Peshmerga and ISIS forces exchanged fire Monday, CNN's Nick Paton Walsh heard airstrikes from above coming from some of the nearly 90 coalition and Iraqi planes involved in the operation. "I've just seen a loud airstrike go in right in front of us here," CNN's Nick Paton Walsh said. "That kind of explosive power only happens from some kind of a coalition device."

East of Mosul, CNN 's Hamdi Alkhshali witnessed that at least 45 Kurdish armored vehicles had stormed the village of Kermlesh.
Fighters exchanged heavy machine gunfire and fired artillery and rockets into the nearby villages -- nine of which have been liberated.

Diverse coalition
Before the city was seized by ISIS in 2014, forming part of its self-declared caliphate across stretches of Iraq and Syria, Mosul was inhabited by more than 2 million people. Only about 1 million residents remain today.

Throughout the past year, Iraq's government and its allies prepared for the major offensive to drive ISIS from the northern city, after the humiliating capitulation that resulted in its loss in 2014.

A diverse coalition of as many as 100,000 troops may be involved in the offensive, mostly made up of Iraqi government troops and Kurdish Peshmerga fighters -- although not all will be involved in the assault on the city, securing positions behind the frontlines instead.

Only Iraqi army troops and members of the national police force will enter the city of Mosul, according to Abadi.

The Iraqi-led forces include the Popular Mobilization Units, which plan to target ISIS tunnels and trenches south of Mosul with thermobaric missiles.

In addition, thousands of Kurdish forces have dug in from other directions in the desert surrounding Mosul.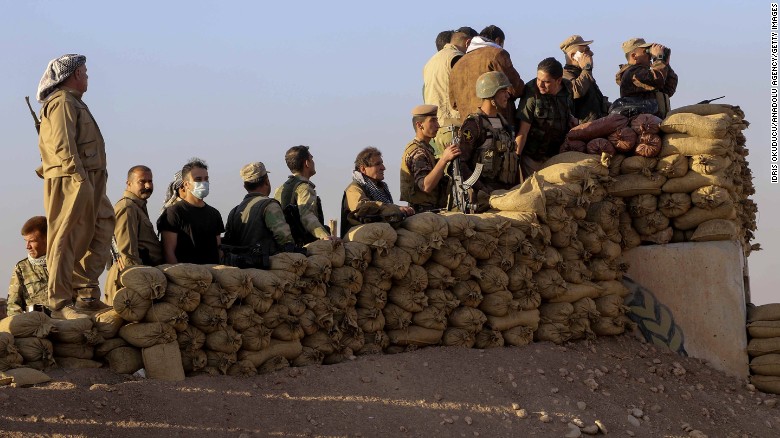 Peshmerga forces stand guard at Kargali village during an operation to liberate Mosul, Iraq.
The Pentagon, lent advisers and air support, recently announced the deployment of 600 additional American troops to aid in Mosul's capture, bringing the number of US personnel to 4,847.

About 3,600 coalition forces from other nations will also be deployed in support of the operation.

Fighters closing in on the city face entrenched ISIS forces, already bombarded from the ground and the air, who are digging in for what could be group's final stand in its last major Iraqi stronghold.

US military officials estimate there are up to 5,000 ISIS fighters in Mosul. ISIS supporters put the number at 7,000.

ISIS militants took measures to combat the effectiveness of airstrikes. Plumes of black smoke rose from oil-filled trenches on fire outside northeastern Mosul, an attempt by ISIS to obscure its fighters' positions during airstrikes, military sources said.

Even still, though, one airstrike hit one of Mosul's main bridges.
Unfortunately, the battle may last weeks or even months, if the operation to retake Ramadi is any indicator.

Iraqi forces have recaptured much of the territory lost to the group, including the cities of Tikrit and Falluja.

What happens next?
As Iraqi-led forces approach the city, Mosul's remaining residents still remain in the clutches of an organization known for exploiting civilians as human shields.
Airdropped leaflets declaring "it's victory time" told residents to tape up their windows, disconnect gas cylinders, and stay indoors.

As fighting begins, the UN refugee agency says remaining residents fleeing could create "one of the largest man-made displacement crises of recent times."

Where are the Republicans who self righteously
say to veterans, "thank you for your service"? They should be focused on this Mosul battle and supporting the military advisers, and covert operations in the Middle East to help rid the world and humanity of evil ISIS.
Labels: CNN, Haider Al Abadi, Iraq, ISIS, Madison Park, Nick Paton Walsh
posted by Juliana L'Heureux | 6:42 AM