Classic candidate fatigue- Donald Trump is incapable of leading
Donald Trump has no credible surrogates. Obviously, his Christian Vice-Presidential nominee political partner is uncomfortable, to say the least, about defending Trump's sex life. As the GOP campaign continues to disintegrate, Trump has a melt down, classic in candidates who experience "candidate fatigue".
Published on:14 October 2016
ROBERT SOBEL- Expert in News

Donald Trump has complete meltdown, tears apart teleprompter during rally
Donald Trump has been dealing with multiple allegations of sexual assault, and he doesn't appear happy about it.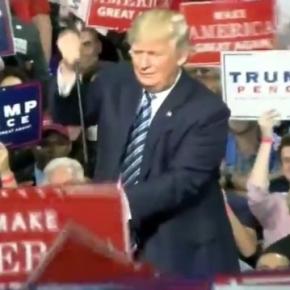 Donald Trump is obviously experiencing candidate's fatigue. He's a 70 year old man who stays up nights "Tweeting" political attacks and spreads vitriolic rhetoric at his "beer hall style" campaign rallies. Now, he's even tearing apart his teleprompter!
Apparently, the pressure is taking its toll on #Donald Trump.

When Trump first announced his candidacy for president, he did so being claiming to be cool, calm, and collected, as well as a self-funding billionaire. Trump's controversial campaign style caught many off guard, but he was able to ride his success all the way to the Republican nomination for president. Despite winning the primary, Trump has struggled to carry over the same momentum in the general election, and after days of repeated allegations of committing sexual assault on various women, the former host of "The Apprentice" might be out of tricks. As reported by The Hill on October 14, Trump grew frustrated during his latest rally and broke his teleprompter.
Addressing a crowd of supporters in the important swing state of North Carolina on Friday night, Trump randomly went after the makers of his teleprompter, before pausing his speech to rip the device from its stand.
"So the teleprompter is a bummer, it doesn't work," Trump said, stating, "That means the company doing the teleprompter is in the back, that means they didn't do a good job."
As a matter of fact, Trump continued, saying that he "won't pay them," before admitting, "I like it better without the teleprompter." Trump's behavior on the campaign trail shouldn't come as a surprise, as he's helped provided the American people with the most controversial election in recent history.

Election update

After a brief bounce back last month, Trump has stumbled with less than four weeks until voters head to the polls to decide the country's next commander in chief. According to the most recent rolling average provided by Real Clear Politics, Trump has fallen behind #Hillary Clinton be over six points, while also struggling to gain ground in battleground states.
Recent allegations of sexual assault have caused a rift between Trump and the Republican party, with many calling for his exit from the race before Election Day next month.
Due to the backlash of the last week, pollsters and political pundits now believe that the Democratic party could even regain control of the senate.
Democrats must explain how dangerous Donald Trump is by convincing all voters to reject his political leadership. As he's proving on an hour by hour basis, Donald Trump is incapable of being elected leader of the free world.
Labels: North Carolina, Robert Sobel, teleprompter