Dirigo- Maine voters hold up the US Constution at Trump rally
Dirigo on the Maine flag. Let's lead with copies of the US Constitution
Dirigo is the Maine state logo.
In Latin, the state's motto means "I lead". Today, in Portland Maine, the state may have begun a new election tradition.
Therefore, I recommend all political rallies, beginning from today August 4, 2016 and moving forward, carry the tradition started at the Donald Trump rally held in Maine, today. Let's see the US Constitution!
In my opinion, all rallies should display copies of the Constitution, making them visible, either in a pocket copy or displayed as an exhibit on the venue's stage.
A video of this rally is posted by The Guardian here:
https://www.theguardian.com/us-news/video/2016/aug/04/trump-protesters-constitution-rally-video

Portland, Maine- A group of protesters at Donald Trump's rally in Portland, Maine, on Thursday stood up silently during the Republican nominee's speech and held up pocket copies of the US Constitution.

They were quickly ejected by campaign staffers and drew fierce boos and jeers from the roughly 1,800 Trump supporters packed into the auditorium, the capacity of the venue.

The protest was a reference to Khizr Khan's high-profile condemnation of Trump at the Democratic National Convention (DNC) last week. Khan is the father of a Muslim-American soldier who was killed in action in the Iraq War. He and his wife's profound presentation at the DNC on Thursday, July 28th, is now part of American election history.

The protesters held up pocket copies of the Constitution, issued by the American Civil Liberties Union.
It was not immediately clear whether the demonstrators were affiliated with a particular organization.

The ACLU responded on Twitter, saying: "Glad to see people are standing up for constitutional principles using their ACLU pocket Constitutions!"

The Trump campaign did not immediately respond to a request for comment.

Trump's rally in this largely liberal city drew at least five other interruptions, including two people who tried to disrupt Trump's speech with chants accusing him of being a racist.

The multiple protests at the rally come after several weeks during which Trump has seen relatively few protests at his events, a sign of the risks his campaign is taking on as it tries to carve out support in traditionally Democratic strongholds.

Trump's appeal to blue-collar workers has helped him cut into Democrats' advantage in certain parts of the country and the Republican nominee has vowed to campaign to flip several blue states, including California and his home state of New York -- despite lacking much campaign infrastructure in either state.
Trump had been slated to campaign in New York on Thursday but his campaign scrapped the stop just days earlier.

Still, Trump pressed forward with his attempts to appeal to supporters of Sen. Bernie Sanders, who unsuccessfully challenged Hillary Clinton for the Democratic nomination.

"Do we have Bernie Sanders people here?" Trump asked, drawing a few whoops from the crowd.

"We're going to get a lot of Bernie Sanders votes," he continued, drawing a retort from one man sitting in the balcony.

"Not mine!" the man shouted.

Moments later, as the man interrupted Trump's speech with shouts, a campaign staffer tapped him on the shoulder and escorted him out of the venue.

The Republican nominee focused much of this speech on attacking Clinton and President Barack Obama.

He also disputed that there was any "fissure" between him and running mate Mike Pence, after Pence endorsed House Speaker Paul Ryan's reelection, while Trump has declined to support the Speaker.

"Paul Ryan's a good guy, actually, so Mike called me and he said, 'Would you mind if I endorsed? I won't do that if it causes any complications.' ... I said, 'Mike, you like him?' Yes. 'Go and do it.'"
(OMG! Anybody who believes this Trump fantasy must, also, still believe in the tooth fairy!)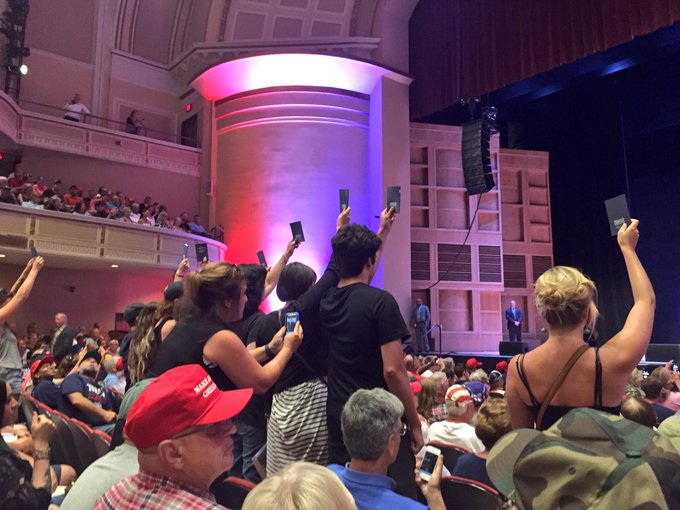 Portland Maine protestors at Donald Trump rally are holding up pocket copies of the US Constution

Protesters at @realDonaldTrump's event in Portland, Maine stand & hold up copies of the Constitution as Trump speaks pic.twitter.com/xgsEIa7AuK

— Jeremy Diamond (@JDiamond1) August 4, 2016
Labels: Donald Trump, Portland Maine, The Guardian