Improved backgound checks are essential prior to gun ownership
They do background checks for employment, don't they?

A successfully growing movement is finally going to the ballot initiative "referendum" status as Maine builds momentum to require stronger background checks prior to the purchase of guns.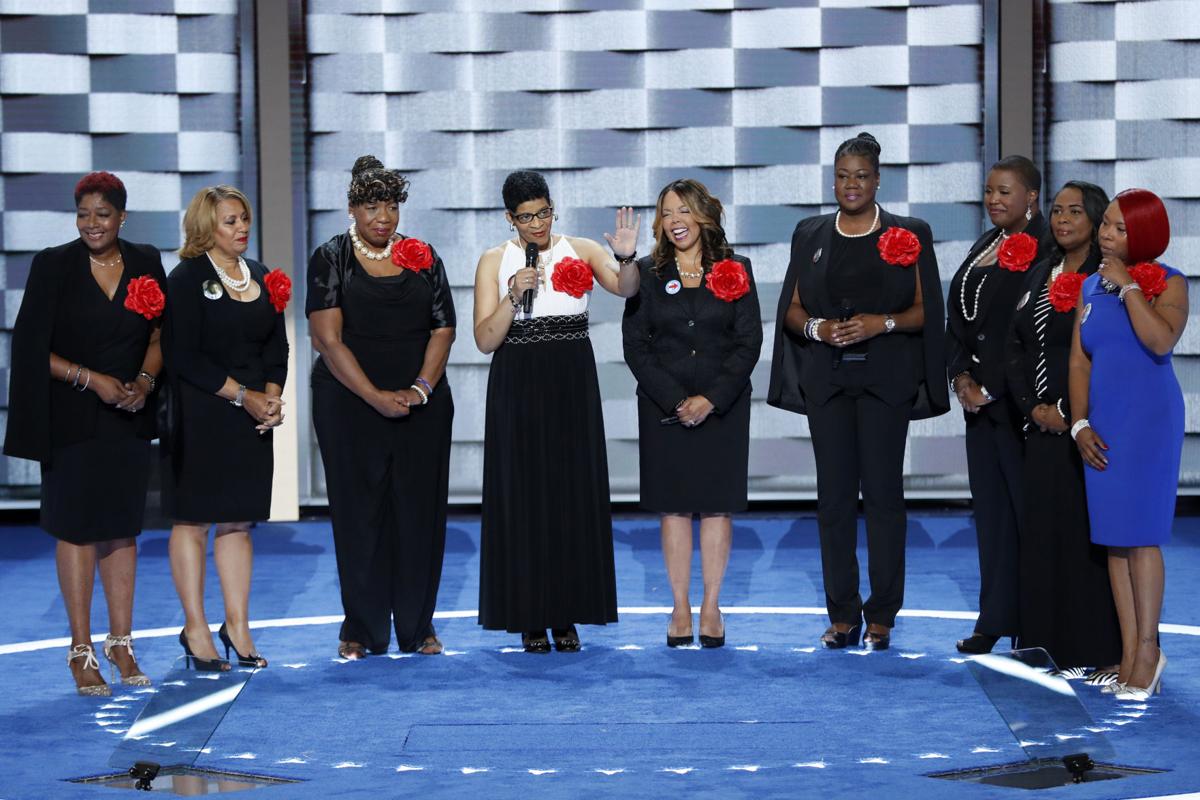 Mothers of the Movement to stop gun violence, at the Democratic National Convention in Philadelphia PA
As evidenced by the emotionally moving mothers' presentations at the Democratic National Convention (DNC) in Philadelphia, this worthy effort should not be necessary, but it appears to be the only way for private citizens to overcome Republican ownership by the National Rifle Association.
Democrats paid tribute to the victims of the June gun attack on a gay nightclub in Orlando, Florida, and to the 2012 shootings of children and teachers at Sandy Hook Elementary School in Connecticut.

Effort to require background checks for Maine private gun sales gets big donation

A Seattle-based entrepreneur contributes $125,000 to supporters of the referendum effort, reports The Portland Press Herald.
AUGUSTA, Maine — The group backing a statewide ballot effort to require background checks for private gun sales received a large donation from an out-of-state donor, according to the latest campaign finance reports released this week.

The $125,000 donation from Seattle-based entrepreneur Nicolas Hanauer to the Mainers for Responsible Gun Ownership brought the campaign's total contributions to more than $2.3 million. The group also received $25,000 from Maine author Stephen King, according to the report from the period ending July 19.

As of Tuesday, opponents of the background checks raised just over $40,000, most of it donated by the National Rifle Association.

Of the five referendum questions going to Maine voters in November, the gun control question has, by far, attracted the most contributions, finance reports show.

The pro-background checks group had $432,886 on hand at the end of the reporting period, having already spent heavily on TV advertising to run this fall, as well as consultants, polling and staff. The National Rifle Association's Institute for Legislative Action was reporting $335 cash on hand.

The Seattle-based donor, Hanauer, is a businessman and venture capitalist who was one of the first investors in Web retail giant Amazon. Hanauer was also among a trio of billionaires, including Bill Gates and Steve Ballmer, who helped bankroll a similar ballot question in Washington state that was approved in 2014.
In the Washington campaign, background check supporters raised more than $10 million compared to the NRA-backed opponent campaign's $600,000.

Hanauer also backs raising the federal minimum wage to $15 an hour.

Other significant donors listed in previous campaign finance reports include a group backed by former New York City Mayor Michael Bloomberg's Everytown for Gun Safety Action Fund, which donated $1.7 million in May.

The campaign also has collected small donations of $100 to $500 from Maine residents. Among them is former Lewiston Mayor Larry Gilbert Sr., who donated $100, retired U.S. Attorney for the District of Maine Paula Silsby, who gave $500, and outgoing state Senate Minority Leader Justin Alfond, D-Portland, who gave $250.

The latest finance report was filed this week with the Maine Commission on Governmental Ethics and Election Practices.

The background check question – "Do you want to change Maine law to require background checks prior to the transfer of firearms between individuals, with some exceptions for certain circumstances?" – will appear third of the five on the state ballot in November. (I don't know why there must be a caveat in this question, but I suppose it was necessary to help mitigate opposition.)
It certainly seems evident to me that improved background checks are a small but essential step to pushing back on the horrible loss of life related to preventable gun violence in America. It's too bad this effort must be decided in referenda, rather than by the elected public officials (Congress!) who we Americans pay to protect the public.
Labels: Congress, Mothers of the Movement, Portland Press Herald