Republican support for tolerance- speech at Portland Maine MLK Day Celebration
Many Mainers are grateful to State Senate President Michael Thibodeau (Republican of Waldo County) who was among the speakers at the NAACP's annual Martin Luther King Jr. celebration on Sunday, January 17th, at the Holiday Inn by the Bay, in Portland.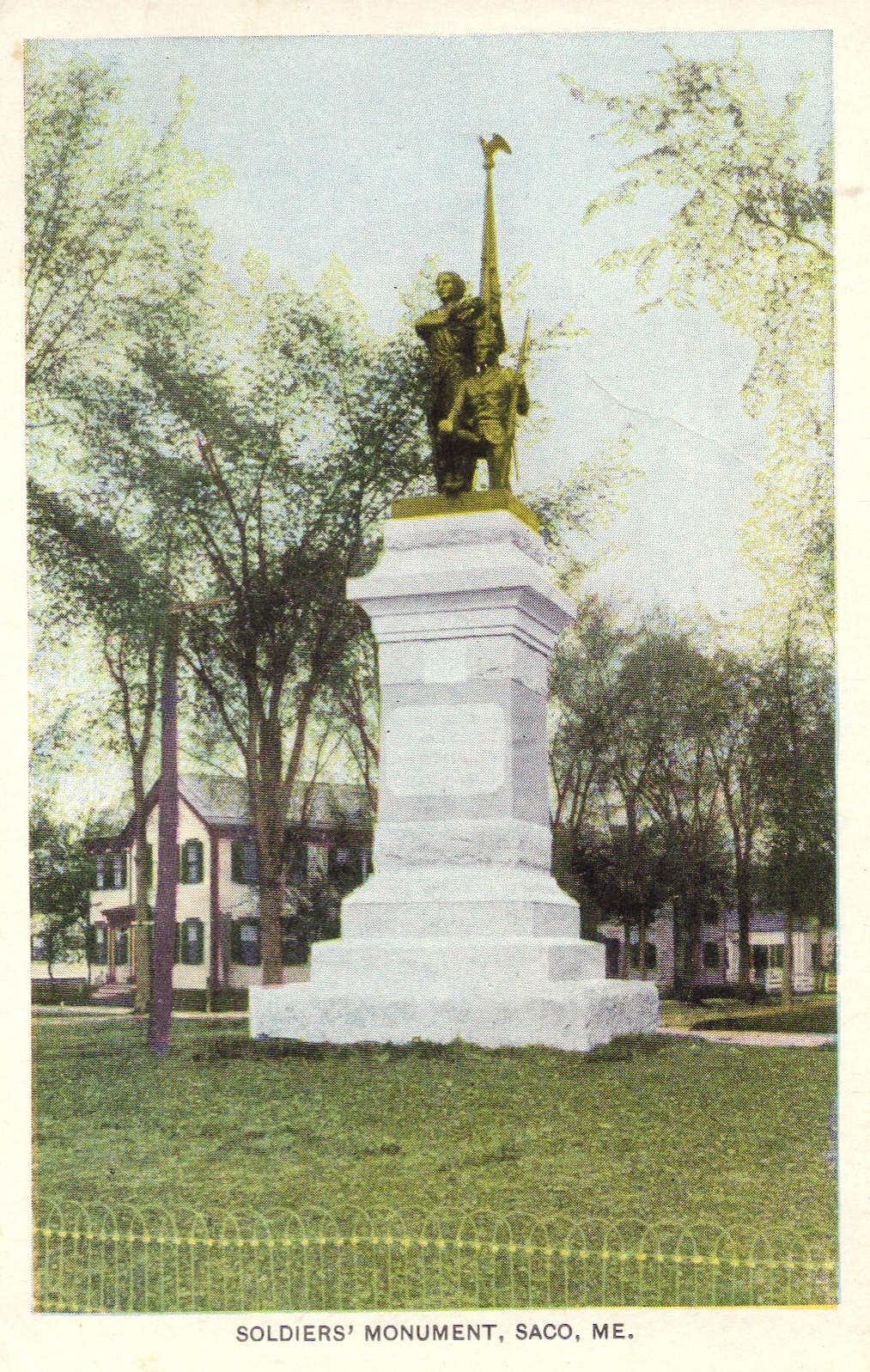 Soilders Monument in Saco, Maine a tribute to Civil War soilders
Maine's history of leading against racial intolerance has been shadowed by recent startling remarks by the state's Republican Governor Paul LePage, where racist comments have left everyone stunned about his motivations. "He said whaaaa???" Governor LePage clearly hasn't noticed how nearly every town and city in the state, plus a few cemeteries, display impressive Civil War Memorials. Perhaps the Governor doesn't remember that Harriet Beecher Stowe wrote Uncle Tom's Cabin, when she lived in Brunswick, Maine.
Yet, there's hope on the political horizon. Maine's future political leaders seem to be enlightened, especially if Senator Thibodeau's speech is a harbinger of a sea turn, clearly opposite from the Governor's caustic remarks.
The Village Soup- "The Republican Journal" and The Portland Press Herald reported on Senator Thibodeau's speech. Clearly, Republicans are proud of this young and forward thinking political leader. Indeed, Thibodeau is a refreshing contrast to the concrete thinking of Governor LePage, who has worn out his reputation as a "plain speaking" politician.
Some quotes from Thibodeau's speech:
Maine State Senate President Michael Thibodeau at the MLK breakfast in Portland, ME
Senate President Thibodeau discussed Dr. King's legacy as well as Maine's own dark history of intolerance and discrimination, noting that it has no place in today's society.

"We all must be vigilant and on guard, making sure that we never again allow hatred and bigotry to be the norm in our state."

"The vast majority of Americans reject hatred and bigotry and don't want anything to do with that."
Maine Senate President Mike Thibodeau made history Monday when he became the

first elected Republican official to speak at the annual Martin Luther King Jr. Celebration hosted by the NAACP Portland Branch.
Thibodeau's participation in the dinner was openly contrasted with past and recent actions and comments by Republican Gov. Paul LePage and drew praise from many at the 35th annual event.
Of course, Thibodeau didn't mention LePage during his speech, which was one of several delivered by some of Maine's political leaders. Instead, Thibodeau recalled the prejudice and injustice that

French Catholic immigrants such as his ancestors experienced when they came to Maine in the late 1800s and early 1900s.
Moreover, he said he appreciates the work that the NAACP does, bringing forward "issues that are so important."
"We all must be vigilant and on guard, making sure that we never again allow hatred and bigotry to be the norm in our state," Thibodeau said.
Afterward, Thibodeau said he was glad to be invited to this year's celebration and considered it a great opportunity to recognize King's accomplishments.
Rick Bennett, chairman of the Maine Republican Party, also attended the celebration as a guest of the NAACP Portland Branch.
"Martin Luther King's work was nonpartisan," Bennett said during a break in the program. "There are political overtones to this event, but it's about freedom and it's about justice, and those are two things all Americans can agree on."
Rachel Talbot Ross, president of the NAACP Portland Branch, said she hoped that Thibodeau's and Bennett's attendance signified the potential for improved relations at the State House on issues related to poverty, immigration and social justice.
"We cannot go on like this," Ross said after Thibodeau spoke. "The

divisiveness in Augusta isn't doing any Mainers any good.

We must figure out a way to move forward."
Ross received warm applause when she delivered opening remarks, saying that "the NAACP had a tough year" and thanking those in attendance for their continued support.
"We are grateful," Ross said with emotion. "We are blessed."
It came to light recently that the Portland and Bangor branches have been operating for more than two years without the approval of the national organization and should have stopped all activity in late 2013, according to NAACP officials. The national organization allowed the branches to host MLK Day events this year while they work to re-establish their active status.
It also was a difficult year for Ross, who resigned amid controversy last fall from her longtime job as the city of Portland's director of equal opportunity and multicultural affairs.
Portland Mayor Ethan Strimling, a former Democratic legislator and political commentator, recalled LePage's racially charged comments and said he was

proud that Thibodeau attended

. Strimling said he hopes that LePage will join the celebration in the future "so he can see what Maine looks like," noting that the room was filled with people of diverse ethnic, racial and religious backgrounds.
U.S. Rep. Chellie Pingree, a Democrat who represents the 1st District, called the governor's comments "shameful" and recalled racial tensions that surfaced during Lewiston's mayoral election late last year.
Pingree said Maine needs the immigrants who are moving here to help offset the decrease in the number of young people that is contributing to the state's aging population.
Maine House Speaker Mark Eves, a Democrat, said the NAACP's work is "imperative" in today's political environment.
The keynote speaker was Danielle Conway, dean and professor at the University of Maine School of Law. Conway said authenticity and education were central to King's message.
She recognized a variety of students and educators in the audience, asking them to stand and saying, "What you stood up for was Martin Luther King's legacy."
U.S. Sen. Angus King, an independent, recalled hearing the civil rights leader deliver his "I Have a Dream" speech from the steps of the Lincoln Memorial during the March on Washington in 1963.
King also referred to the strong partisan rhetoric that has overtaken political discourse, and he quoted the Bible, Proverbs 12:18, saying that "the words of the reckless pierce like arrows, but the words of the wise bring healing."
Senate President Thibodeau also spoke in enlightened contrast to politically incendiary comments made about US immigration, espcially those from Republican right wing presidential candidates, Doanld Trump and Raphael "Ted" Cruz.
Labels: Governor Paul LePage, Hartiet Beecher Stowe, Martin Luther King, Senator Michael Thibodeau, Uncle Tom's Cabin