House party for Hillary 2016 in Brunswick Maine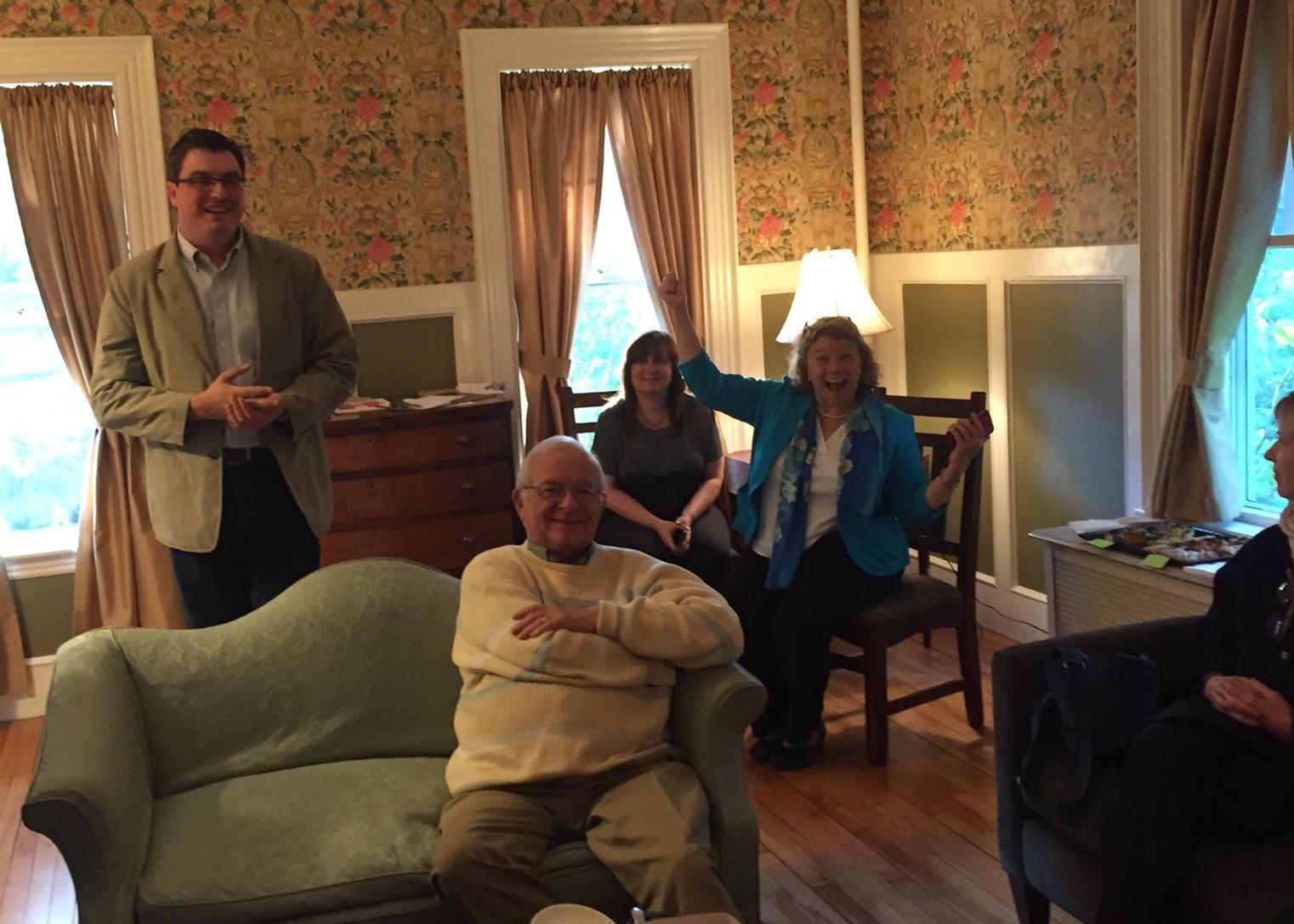 Although this iPhone picture is a little dark, the fact is Dick (seated) and I enjoyed our visit to the Brunswick, Maine house party for Hillary Clinton 2016. We listened to plans for organizing supporters to elect our nation's first woman president.
Well, I finally had a chance to vent my frustration with the inability of Democrats to push back on vitriolic Republican rhetoric on social networking.
We must learn to use social networking to our advantage!
Let's take the example of a tweet I received after posting a message about the #House_Party_Hillary_2016. So, what happened is, a troll for right wing media instantly flooded my twitter feed with incoherent messages about conspiracy theories related to unsubstantiated hate about the world leader and humanitarian Mrs. Clinton.
This is how I responded to the tweet, always in 140 characters. What I did was to hash tag: #Hillary_Clinton_humanitarian_world_leader and then posted this as a response to the vitriolic right winger tweet. BUT, I knew the right wing tweeter was a troll for anything about Hillary Clinton. Therefore, as soon as I posted my # comment, I went to the tweeter's feed and blocked him. Believe me, readers, absolutely nothing makes a right winger angrier than to be blocked by a liberal tweeter!
Obviously, social networking and push back with the right wing trolls on twitter are not the world for the faint of heart. These right wing people are strange and angry. But, Democratic push back must be done. Let's learn how to deal with these social networking predators and fight them in real time, before they use their negative energy to take control of populist thinking.
In my opinion, as a social networking guru, the right wing has decades of advantage on controlling our negative thinking. They have taken over our abilities to reason. So, we Democrats must learn how to push back or we will loose our opportunity to elect a qualified woman to lead America.
Let's elect Hillary Clinton in 2016 and begin by getting involved in social networking to support her campaign. Learn it and do it!
Labels: Democrats, right wing extremists, twitter