A Solution to Obsessive Congressional Gridlock - Bring Independent Voters Into Primary Elections
"..
.old political institutions and categories are becoming irrelevant—even repugnant—to many Americans
."
Americans are wringing our hands in political desperation, tying in vain to understand how our elected Congress can act so irresponsibly in the face of a national budget crises.
Here's the root cause of the trouble: Republicans in the Congress won't pass a budget bill unless President Obama's Health Care Reform Act is unfunded. In other words, Congressional Republicans won't uphold the Federal Health Care Reform Law, upheld as Constitutional by the US Supreme Court. Instead, the GOP prefers to hold the entire US government hostage to this obsession with unfunding health care reform, aka "Obamacare", regardless of how many innocent people are harmed.
How did our government get to this horrible political stalemate?
It happened because primary elections, where political candidates are selected to run for office by party faithful, are exclusive of the Independent voters. In other words, only partisan voters select the candidates who run for office. Therefore, winning candidates are beholding to the small number of primary voters who make their nominations and elections possible. As a result, American politics is highly polarized between Democrats and Republicans, because Independent voters are largely excluded from the primary process.
Yet, there's a way to solve this polarization by creating a truly democratic primary process where Independent voters are included in the primary process. Political expert Jackie Salit is leading a national effort to change the status quo of the nation's primary election process and she'll be in Maine on Sept. 30th.
Jackie Salit will be in Maine on September 30th. Hopefully, I'll meet her at the Bangor Rotary's lunch meeting on October 1st.
Salit's influence must change the status quo of political elections by opening all elections to every registered voter without regard for political party affiliation.

The event is expected to be livestreamed and videoed for future viewing.

She will also do a
Book Signing
at the Bangor Public library, speaking at the
Bangor Rotary Club
and making several media appearances including an editorial board meeting at the the Bangor Daily News and the popular local radio show, The Pulse on WZON.
Jacqueline S. Salit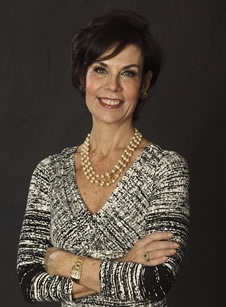 A political innovator and advocate for the rights of independent voters—now
40%
of the American electorate—Jacqueline Salit has built the largest network of independent leaders and activists in the country. She is the President of IndependentVoting.org, the country's leading strategy and organizing center for independents, with chapters in 40 states. Since 2005 she has hosted a bi-annual national conference for independents.
Salit managed Michael Bloomberg's three campaigns for New York City Mayor on the Independence Party (IP) line, playing a crucial role in delivering the IP's "margin of victory" vote in 2001, the exodus of 47% of African-American voters from the Democratic Party to support Bloomberg in 2005, and the historic 150,000 votes for Bloomberg's re-election on the IP line in 2009.
In 2011, Palgrave Macmillan selected Salit to write a book on the contemporary independent political movement in America. Independents Rising: Outsider Movements, Third Parties and the Struggle for a Post-Partisan America was released on August 7, 2012 and presents her firsthand account of this growing and influential voting bloc.
Salit recounts independents little-known history and sometimes volatile impact as old political institutions and categories are becoming irrelevant—even repugnant—to many Americans. Salit, who has spent 30 years as an insider in this growing movement of outsiders, also reveals how independents underestimate their own power and how they can make the most of their newfound influence in American politics.
Salit's political commentaries have appeared in: USA Today, Christian Science Monitor, The Huffington Post, New York Daily News, San Francisco Chronicle, Washington Times, Seattle Post-Intelligencer, Legal Times, Buffalo News, Union Leader, Albany Times Union, and New York Newsday. She's been featured commentator on CNN, MSNBC, CNBC, CBC, PBS, FOX and CSPAN.
Salit is a regular contributor to the nationally syndicated radio program Fairness Radio and produced Talk/Talk with the late public philosopher Fred Newman. She is a native New Yorker who resides in Greenwich Village.
It's time Independent Voters become part of the democratic process! Americans must build a critical mass of support for open primary elections.
Otherwise, the genetics of inbred politics risks the continuation of destructive polarization and more frustrating gridlock.
Labels: Bangor League of Women Voters, Independent Voters, Jackie Salit, open primary elections