Citizenship story in Kentucky
It's impossible to believe that all people who live in so called "red" states, like Kentucky, where conservatives rule, are unilaterally right wing or white supremacists (or both!).
For example, I've been looking at the various Kentucky state newspapers to find glimmers of hope, like finding a rose in a thistle garden, for more progressive points of view. Indeed, there are incredibly articulate messages published in the independent Kentucky media, written by people who advocate for values with which I agree. In Kentucky, the letter to the editor re-printed in this blog, was published in the Lexington Herald-Leader. It's a first person story about "immigration", but the title is a euphemism. Rather than lead with the header "immigration", the title reads "citizenship"; but could also speak to "religious discrimination". You can decide for yourself.
Senator Mitch McConnell and Rep. Andy Barr alert!
This letter to the editor is in response to an
article found at this link:
http://www.kentucky.com/news/local/news-columns-blogs/tom-eblen/article137976773.html
Dear Editor:
I was touched by columnist
Tom Eblen's account
of his recent visit to the citizenship ceremony presided over by U.S. District Court Judge Joe Hood. I am sure Eblen's account brought back memories to others like me who witnessed their parents or other family members go through this impressive and meaningful ceremony.
For me, it happened on Oct. 1, 1945, in the federal courtroom in Charlotte, N.C. My father had endured 17 days in the Buchenwald concentration camp after Kristallnacht, Nov. 9, 1938.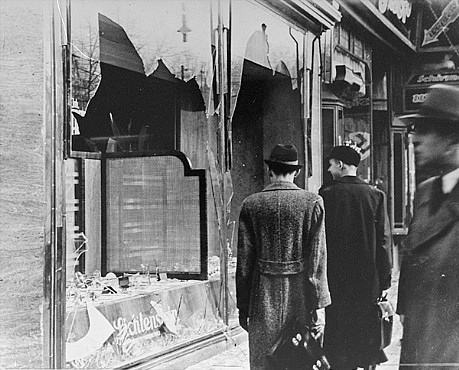 Shattered storefront of a Jewish-owned shop destroyed during Kristallnacht (the "Night of Broken Glass"). Berlin, Germany, November 10, 1938.
— National Archives and Records Administration, College Park, Maryland
Fortunately, we had been able to immigrate to this country on February 22, 1940, on one of the last ships to leave Holland.
My father found work in Spartanburg, South Carolina, as a janitor in a textile mill and as a lay rabbi for the Jewish community.
A few years later, we moved to Gastonia, North Carolina.
I can remember my parents studying hard to prepare for the citizenship test described in Eblen's article, and their being sworn in with others in the courtroom. After the ceremony, we walked across the street to the Piedmont Diner for a celebratory lunch. Having deprived themselves of all but the basic needs, my parents never went out to eat. However, this occasion was so special that it was marked by the first time our family ate out. I will never forget that day.
Labels: immigration, John Rosenberg, Kristallnacht, Lexington Herald-Leader, Tom Eblen