Donald Trump gone viral- international Women's March
Thank you BuzzFeed for headlining the truth. Donald Trump has ignited an international era of globilized politics. Huge numbers of demonstrators were obvious facts. Although Donald Trump is obsessed with his image and "polls", the fact is, he's gone internationally viral but into a vortex of negativity.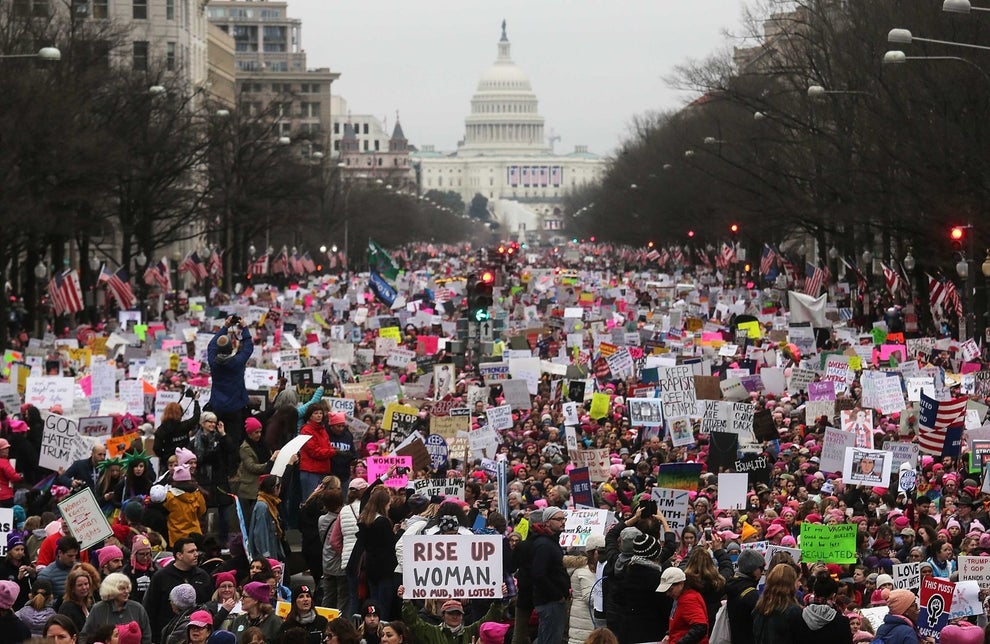 Women's March was overwhelming
Women's Marches throughout the world, hopefully, helped to wake Trump cultists who systematically dismissed #truth as "alternative facts". The amazing volume of women who supported the marches provided badly needed enlightment, in contrast to the darkness of the Donald Trump darkly and illigitimate inauguration.
Massive Women's Marches Were Held Across The Globe To Protest Donald Trump
The Women's March on Washington was one of the largest protests in the city's history, the Associated Press reported.

*An estimated hundreds of thousands of people turned out at the Women's March on Washington, DC, and at related marches around the nation and the world — a massive display of protest

against President Trump

and his comments that have at times disparaged women.

* The crowd in DC was much bigger than the 500,000 expected, DC Homeland Security Director Christopher Geldart told the AP. That means it was one of the largest demonstrations in DC history.

* There are a lot more people at the march in Washington, DC, than Trump's inauguration.

* Cecile Richards, the president of Planned Parenthood, said, "My pledge to you today is that we stay open."

* "We believe that sexism, racism, homophobia, and bigotry have no place in this country. Black lives matter. Diversity make our country stronger. We believe that equal means equal," Sen. Elizabeth Warren said at a rally in Boston.

* Reporting by Ema O'Connor, Mary Ann Georgantopoulos, Ellie Hall, Zoe Tillman, John Stanton, Lissandra Villa Huerta, Nidhi Subbaraman, Bim Adewunmi, Katie Baker, Anne Helen Petersen, Charlie Warzel, Jessica Testa, Jessica Naudziunas, Brittany Berkowitz, and CC Allen in Washington, DC; Sheera Frenkel and Ellen Cushing in Oakland; Brandon Wall, Claudia Koerner and Brianna Sachs in Los Angeles; Tyler Kingkade in Austin, Texas; and Azeen Ghorayshi, Remy Smidt, and Mary Jacob in New York City.
Labels: BuzzFeed, Cecile Richards