Awful inaugural but worse first Day - learning leadership
A half empty audience on the US Capitol grounds witnessed the oath of office administered to Donald J. Trump, but he nevertheless ignited world wide demonstrations that took place to protest against his inauguration. In spite of having an opportunity to deliver a unifying inaugural speech, he, instead, gave the world a "dark inaugural", that will be remembered only because it was a terrible speech with bleak messaging. His inauguration was not a happy celebration
. Rather, it sent chills of fear around the world.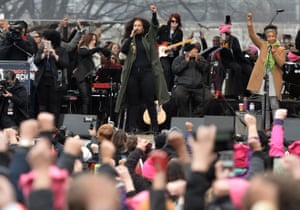 Women's marches throughout the world attracted millions of people who were motivated to protest Donald J. Trump's leadership, because he represents a threat to their freedoms.
Women's marches in every major city imaginable, located both in the US and internationally, drew many millions of people and an astounding amount of media coverage, due to the strength of the immense and peaceful demonstrations. Thankfully, almost all the demonstrations were peaceful.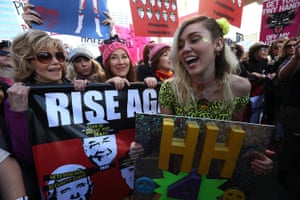 Meanwhile, Sean Spicer, the Donald Trump press secretary, was told to lie about crowd sizes reported at the inauguration- inflating the anemic numbers, while accusing the media about over reporting the throngs of people who participated in the world wide women's demonstrations.
These ridiculous lies, told on the administration's day one, in spite of the obvious imagery, can't be dismissed.
"The Big Lie" is how Joseph Goebbels ran the Nazi regime for Adolf Hitler and, apparently, how the Trump media ghoul Steve Bannon (a slob), formerly of the right wing Brietbart News, intends to manage the lies told by Donald Trump.
Honestly, if Donald Trump gets away with telling lies about "crowd size" then there's no limit to his capacity for spreading fake news about virtually any other subject.
Evidently, the Donald Trump "spiritual adviser" televangelist Paula White, wasn't on the "payroll clock"
when her boss purposefully violated the 9th Commandment, in the Ten given to Moses.
On inauguration day, Donald Trump insulted all the US presidents who came before him, including those who attended the inauguration, because he claimed they didn't do as good a job as he intends to do. This was grossly impolite, to say the least. I'm certain Mary Anne Trump, the man's sainted mother, taught him better manners. Unfortunately, Donald Trump never mentioned her name, as though he never had a mother or a father. Shameful.
Second, Donald Trump did absolutely nothing to bring Americans together, after the divisive election that he created for his own benefit. He'll fail to make America "anything again" unless the nation unites. Yet, given the enormity of the international women's marches, it certainly appears the country is more divided now, than it was before his electoral college election.
When Trump attended the Commander in Chief inaugural ball in Washington, he thanked the military attendees for voting for him; but he didn't honor them for the enormous sacrifices each military person and their families make every day, to do their jobs.
Unfortunately, Donald Trump never left campaign mode after being elected- he still talks like he's running for office; he nodded off to sleep during the National Cathedral prayer service on Saturday; he went to the Central Intelligence Agency (CIA) on his first official day, where he blamed the media for his problems with national security, but he's on record for criticizing the CIA, FBI and NSA agencies.
I'd be willing to bet that the CIA gave Donald Trump the intelligence version of an intelligence
orchidectomy, (removal of testicles) on Saturday, the day after his inauguration, because when he left his meeting with agency officials, he went to the foyer of the building and began a high level of squealing, in a much different tone, than he had previously. Whatever Trump heard behind closed doors created a different person who spoke after the meeting.
Donald Trump is an embarrassment, an organizational disaster and will continue to be a divisive leader for the United States and for the world.
Trump lied when he told Americans they will come first, but immediately cut into two important programs that help middle class working people. First, he curtailed regulatory compliance with the Affordable Care Act (ACA or "Obamacare"), a terrible executive action; and he prevented the Federal Housing Administration (FHA) from dropping fees associated with mortgages. In other words, getting an FHA mortgage will be more expensive. Both actions harm the middle class who need access to affordable health care and home mortgages.
Democrats must begin impeachment proceedings immediately, to save our nation and remove Donald Trump from office. Otherwise, even more lies and damage will impact on America's credibility.
Ghosts of when President Ronald Reagan was reported sleeping at Cabinet Meetings? Trump at National Cathedral
In other words, America is clearly not going to be great again until Donald Trump leaves office. He's a political Frankenstein and an overrated leadership disaster. Donald Trump's limited capabilities are declining by the hour. It's doubtful he will grow into his presidential role because, at 70 years old and snoozing in the National Cathedral, he's simply too old to change.
Labels: CIA Women's March Washington DC, Commander in Chief Ball