Religion & faith in politics - the good and "not so much"
"Do all the good you can. By all the means you can. In all the ways you can. In all the places you can. At all the times you can. To all the people you can. As long as ever you can."- John Wesley/Hilary Clinton
The Apostle Matthew wrote (Matthew 7 1-3): For with what judgment ye judge, ye shall be judged....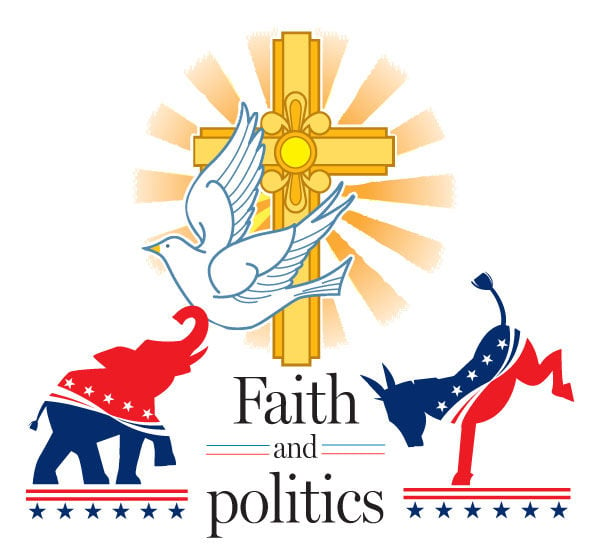 But, if a political candidate puts faith in their biographies then it's fair for us to comment on their qualifications to do so.
In other words, I'm not qualified to make a judgement about the spiritual life or religious faithfulness of political candidates, even when they happen to include their faith beliefs in their biographies. On the other hand, when this information is released in their political press releases, then I feel it's okay to provide my
opinion
about the depth of their religiosity
. Obviously, I don't want to offend St. Matthew, but if he were alive today, I'd take a chance that he would, likewise, have an
opinion
about how political candidates represent their faith.
"Romney 'Good'..." weeeelll, in the end he didn't carry the majority:
In my opinion, Governor Mitt Romney, for example, proudly represented the sincerity of faithful Mormons, or members of the Church of Latter Day Saints.
Probably, what lost Romney the 2012 presidential election, in my opinion, was his inability to garner the confidence of the right wing radical Republican base. They are fanatics and, in my opinion, certifiable "wackos". If they had supported Governor Romney, he might have won the election but we'll never know for sure.
"Biden is 'Good'"
In 2008, Joe Biden said that while others may talk about his faith, he seldom does, instead driven by his Irish upbringing to allow his actions to speak for themselves. Vice President Biden and his family are proud to live their Roman Catholic faith and I believe he would have been an exceptionally well qualified President. Unfortunately, family bereavement, following the untimely death of their son "Beau", precluded him from running for President.
"Ryan 'not so much'"
Four years later, Paul Ryan was greeted with a chorus of criticism in 2012, for his interpretation of Catholic social teaching to justify a budget proposal that included deep cuts in programs assisting the poor. (Speaker Paul Ryan is the same Catholic VP candidate who washed clean dishes in a St. Vincent de Paul Soup Kitchen, when they were already clean, just for the photo op.)
"Senator Kaine - 'Excellent'!"
Senator Tim Kaine
is the third Catholic to appear on a presidential ticket in the past two election cycles, all VP nominees. (Current Republican vice presidential candidate Mike Pence was raised Catholic but now identifies as an evangelical Christian). Senator Kaine gave up a potentially lucrative law career to serve the poor in Honduras. He chose to be a dedicated public servant, rather than a highly paid lawyer.
Senator Kaine received his B.A. in economics from the University of Missouri in 1979, completing his degree in three years and graduating summa cum laude. He entered Harvard Law School in 1979, interrupting his law studies after his first year to work in Honduras for nine months from 1980 to 1981, helping Jesuit missionaries who ran a Catholic school in El Progreso.While running a vocational center that taught carpentry and welding, he also helped increase the school's enrollment by recruiting local villagers. Kaine is fluent in Spanish as a result of his year in Honduras.

After returning from Honduras, Kaine met his future wife, first-year Harvard Law student, Anne Holton. He graduated from Harvard Law School with a J.D. degree in 1983.Kaine and Holton moved to Holton's hometown of Richmond, Virginia, after graduation,and Kaine was admitted to the Virginia Bar in 1984.
"Governor Pence: 'not so much'" (In fact, gets a "D")
Anybody who claims to be "evangelical" but then doesn't follow the teachings of Jesus Christ, can't be considered Christian, just because he says so. Clearly, Jesus accepted the poor, the humble masses, healed the sick and did not discriminate based on a person's socio-economic status ie "immigrants".
"Hillary Clinton: 'Good'": In my opinion, I admire Secretary Clinton's faith motto, a quote from John Wesley (1703-1791), the
Anglican cleric and theologian who, with his brother Charles and fellow cleric George Whitefield, are credited with the foundation of Methodism:
"Do all the good you can. By all the means you can. In all the ways you can. In all the places you can. At all the times you can. To all the people you can. As long as ever you can."
When candidates talk the religious talk and "walk the walk", it's a testament, in my opinion, to their sincerity. Secretary Hillary Clinton and Senator Tim Kaine, in my opinion, are a duo of "good" religious politicians who outshine the others who lined up in recent campaigns, because they live their core spiritual values and they do not pander to the "wackos" on either side of the political spectrum of self righteous people who want to force their extremism on the general population. Of course, Secretary Clinton and Senator Tim Kaine must motivate their followers to vote in mass, plus, at the same time, convince others to follow their progressive leadership. Otherwise, they can be among those who are "good", but not good enough to be elected. Let's convince voters to elect Clinton, and Kaine, two highly qualified candidates, who bring progressive religion and faith into their admirable political values.
Labels: faith, Governor Mike Pence, Governor Mitt Romney, John Wesley, Secretary Hillary Clinton, Senator Tim Kaine, Speaker Paul Ryan