David Duke and the Republican Trump brand
Where is the Republican National Committee (RNC)?
Now it's official! What many Americans have suspected all along about Republican obstructionism has finally been revealed by Donald Trump and his Republican Trumponians, who have not disavowed any endorsement by the racist Ku Klux Klan past grand wizard David Duke. For the past four years, the obstruction of President Obama's progressive agenda was hiding under the guise of political polarization. Now, with another general election and the president of the United States' office at take, it's clear the political extremism has really been masked under Republican racism. Republicans like Senator Mitch McConnell and his right wing cronies have been speaking like puppets for the racist politics they have employed to block President Obama's leadership at every turn. Their ideologies thought they could bring down President Obama's administration, wrestle the next presidential election into chaos and then implement their extremist agenda like dictators just by being obstructionists. But the movement behind this mask has been revealed with David Duke's endorsement of Donald Trump's presidential campaign. The Republican agenda has not been political at all. In fact, if it had been political, there would have been consensus, compromise, advise and consent. Instead, Republicans have been closeted racist, as many of us suspected.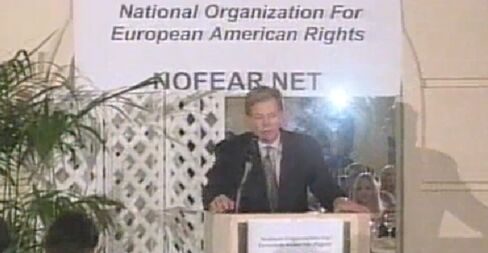 David Duke is a right wing admitted racist and former Grand Wizard of the Ku Klux Klan hate group.

CNN reports: The Sunday uproar started when Trump was asked by Tapper whether he would disavow Duke and other white supremacist groups that are supporting his campaign.

"Just so you understand, I don't know anything about David Duke, OK?" Trump said.

Trump was

pressed three times on whether he'd distance himself from the Ku Klux Klan

-- but never mentioned the group in his answers.

"I don't know anything about what you're even talking about with white supremacy or white supremacists," he said. "So I don't know. I don't know -- did he endorse me, or what's going on? Because I know nothing about David Duke; I know nothing about white supremacists."

Duke had detailed his support for Trump in a Facebook post on Thursday.

"I think he deserves a close look by those who believe the era of political correctness needs to come to an end," Duke wrote.

He touted Trump's strength on immigration, breaking up "Jewish dominated lobbies and super PACS that are corrupting and controlling American politics," preventing war with Russia, exposing media "lies" and ensuring "that White-Americans are allowed to preserve and promote their heritage and interests just as all other groups are allowed to do."

The Anti-Defamation League had called on Trump to repudiate the support of Duke, the former grand wizard of the Ku Klux Klan, and other white supremacist groups.

Despite what he said Sunday, Trump apparently did know Duke in 2000 -- citing him, as well as Pat Buchanan and Lenora Fulani -- in a statement that year explaining why he had decided to end his brief flirtation with a Reform Party presidential campaign.

"The Reform Party now includes a Klansman, Mr. Duke, a neo-Nazi, Mr. Buchanan, and a communist, Ms. Fulani. This is not company I wish to keep," Trump said in a statement reported then by The New York Times.

He had also indicated he knew of Duke during a Friday press conference, when he was asked similar questions and said: "David Duke endorsed me? OK, all right. I disavow, OK?"

After his appearance on "State of the Union," Trump highlighted that Friday comment in a tweet, saying he does disavow Duke.

During the interview, though, asked if he'd broadly distance himself from Duke and white supremacists, Trump demurred, saying he knew nothing about their support for his bid for the Republican presidential nomination.

"I have to look at the group. I mean, I don't know what group you're talking about," Trump said. "You wouldn't want me to condemn a group that I know nothing about. I'd have to look. If you would send me a list of the groups, I will do research on them and certainly I would disavow if I thought there was something wrong. You may have groups in there that are totally fine -- it would be very unfair. So give me a list of the groups and I'll let you know."

Tapper responded: "OK. I'm just talking about David Duke and the Ku Klux Klan here, but --"

And Trump said: "Honestly, I don't know David Duke. I don't believe I've ever met him. I'm pretty sure I didn't meet him. And I just don't know anything about him."

Trump's comments came two days before 12 states -- largely Southern -- vote on Super Tuesday. If he defeats Texas Sen. Ted Cruz and Rubio in most or all of those states, Trump could become a near lock for the Republican nomination.

Rubio slammed Trump during a rally in Virginia, highlighting Trump's 2000 comment about Duke as he pointed out that Trump did know of the white supremacist leader.

"We cannot be the party that nominates someone who refuses to condemn white supremacists and the Ku Klux Klan," Rubio said.

"By the way, not only is that wrong, it makes him unelectable. How are we going to grow our party with a nominee that refuses to condemn the Ku Klux Klan?" he said. "Don't tell me he doesn't know what the Ku Klux Klan is. This is serious."

And on Sunday night Sen. Tim Scott, a South Carolina Republican who is backing Rubio -- and one of two African-American senators -- in a statement blasted Trump's response.

"Any candidate who cannot immediately condemn a hate group like the KKK does not represent the Republican Party, and will not unite it. If Donald Trump can't take a s

tand against the KKK, we cannot trust him

to stand up for America against Putin, Iran or ISIS."

Cruz hit Trump on Twitter, saying, "Really sad. @realDonaldTrump you're better than this. We should all agree, racism is wrong, KKK is abhorrent."

Asked by CNN's Alisyn Camerota on Monday whether he thought Trump's tweet disavowing Duke was enough, Ohio Gov. John Kasich said "I think so." But then he berated Trump's effect on the race.

"I don't know what's in his head. All I know is that white supremacist groups have no place in our society and clearly not in the Republican Party," Kasich said on "New Day."

"And you know it's just one controversy over another. But I have to tell you, Alisyn, I'm sort of tired of what I see, the name calling and what I consider to be childishness when we are running for president of the United States. He obviously should have immediately condemned him. I can't tell you what the heck happened. But this is like every day, it's like a circus. "

RNC communications director Sean Spicer responded to criticism on Twitter leveled at the RNC over Trump's comments, saying, "Are you kidding. Of course the @gop has and does denounce these hate groups/people."

Democratic presidential contenders were also lashing out at Trump. Bernie Sanders tweeted: "America's first black president cannot and will not be succeeded by a hatemonger who refuses to condemn the KKK."

In January, a white nationalist super PAC paid for a pro-Trump robocall to Iowa voters that said, "We don't need Muslims. We need smart, well-educated white people who will assimilate to our culture. Vote Trump."

It was a reference to Trump's proposal to ban Muslims from entering the United States.

In an interview with CNN's Erin Burnett at the time, Trump disavowed those robocalls.

"I would disavow that, but I will tell you people are extremely angry," he had said.

In Sunday's interview on CNN, Trump also detailed what he'd look for in a vice presidential nominee, saying he'd want someone with "a little bit of an inside track" to getting legislation approved by Congress -- an indication Trump could pick a current politician.

"Conceptually, I like the idea of a political person to go along with my abilities," he said.

Trump also said he has no plans to release his tax returns, despite pressure from Cruz and Rubio, because IRS audits are ongoing.

He said he has been audited "almost every year for 10 or 12 years."

"Maybe it's because I'm very conservative, maybe it's because I'm tea party. ... I don't know what it is, but I have been singled out," Trump said. "Until the audit is completed, obviously I'm not giving my papers."

He did say, though, that his campaign is likely to release a list of his charitable contributions "sometime in the next week."

Maine Writer Cliff Notes version of the above from the Republican National Committee: It's easy to say the RNC "disavows" an affiliation with hate groups. Nevertheless, the RNC does not walk the walk.

Instead, the RNC must also, unequivocally, disavow Donald Trump's presidential campaign. Republicanism is now branded as Trumponianism, and will remain tainted until the Grumpy Obstructionist Party denounces bigotry in all its forms, not just the hate groups, but the salient messaging as well.
Labels: Ku Klux Klan