Thank you Senator Susan Collins - at the Rotary Club in Portland Maine
This newsletter from the Washington DC office of Senator Susan Collins with my husband as a veteran who was honored at the Rotary lunch (picture far right) with Richard L'Heureux, MCPO- USN-Ret.
Expressing Gratitude for Those Who Served at the Portland Rotary Club's Veterans Appreciation Day

Senator Collins delivered remarks at the Rotary Club of Portland's Veterans Appreciation Luncheon the day before Veterans Day.

"It is estimated that some 48 million Americans have served in uniform since the founding of our nation. Today, more than 22 million veterans live among us, more than 127,000 right here in Maine. To put that in perspective, Maine has more veterans per capita than all but two of the other states in the country. We are proud of our state's contributions to protecting our nation," said Senator Collins.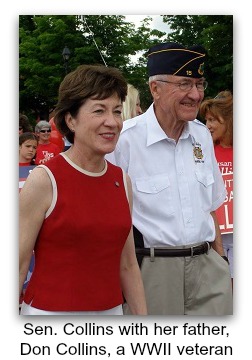 Senator Collins also spoke about her father, Don Collins, a World War II veteran who saw action in Europe and fought at the Battle of the Bulge, where he was wounded twice. Sergeant Collins earned the Combat Infantry Badge, two Purple Hearts, and the Bronze Star.

"Like so many, the gratitude I feel for our veterans is steeped in more than history. It also is personal – I am one of the millions of Americans who have the privilege to call a veteran 'Dad.' One of my earliest childhood memories is going with my father to the patriotic parades in my hometown of Caribou. He hoisted me high on his shoulders, and from the best vantage point along the route, I saw hats go off and hands go over hearts as Caribou paid its respects to our flag and honored our veterans for their service to our country.

"Our veterans provide all of us with an inspiring view from strong shoulders. From that vantage point, we see that the burden of service must be borne willingly and with modesty. We see that challenges must be met and that threats must be confronted. And we see that we have an obligation to always respect, honor, and support tho
Labels: Rotary Club of Portland Maine