Critics of Donald Trump must unite against bullying
"...she sees a frightening future of what freedom of the press – and the country – might look like under President Trump."
As though the violence at Donald Trump "aka the Chump" rallies aren't scary enough, it's evident the critics of the Republican's misogynist racist presidential candidate are now victims of bullying.
In fact, a reporter who happened to report on Melania Trump, the candidate's third wife, has been the victim of antisemitism.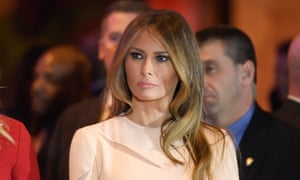 Melania Trump- born April 26, 1970 in Sevnica in Slovakia
Reported in "The Guardian"
Journalist who profiled Melania Trump hit with barrage of antisemitic abuse

Julia Ioffe received disturbing calls and online abuse since profiling Donald Trump's wife for GQ (Magazine), and likens antisemitism to 'shit I've only seen in Russia'
Journalist Julia Ioffe has experienced this kind of harassment before: in Vladimir Putin's Russia.

In the 24 hours since her profile of Donald Trump's wife, Melania, appeared in GQ magazine, the Russian-American journalist has received a torrent of antisemitic, vitriolic and threatening messages

from supporters of the Republican frontrunner.


In the deeply disturbing response to her piece, Ioffe said she sees a frightening future of what freedom of the press – and the country – might look like under President Trump.

"What happens if Donald Trump is elected?" Ioffe said. "We've seen the way he bids his supporters to attack the media, his proposal to change libel laws to make it easier to sue journalists."

The harassment from Trump supporters is not directly linked to the candidate. Yet he has fomented a culture of violence at his rallies, encouraging supporters to retaliate against protesters. He once offered to pay the legal fees for a man who sucker punched a protester at his rally. He also failed to immediately disavow former Ku Klux Klan leader David Duke, who said he supports Trump's candidacy. His campaign has been contacted for comment.

On Thursday, Ioffe answered a phone call from an anonymous caller who played a Hitler speech. She received another call from "Overnight Caskets". On Twitter, users posted photos of her face superimposed on a mug shot from Auschwitz. The Daily Stormer, a white supremacist site, attacked Ioffe in a blogpost titled: "Empress Melania Attacked by Filthy Russian Kike Julia Ioffe in GQ!"
Dear Ms. Ioffe, I'm a blogger of Ukranian-Russian descent. In fact, I abhor the response by racist Donald Trump supporters who are challenging your right to report about Melania Trump.
Although Mrs. Trump is beautiful, she's certainly a public figure who is subject to objective criticism. Mrs. Hillary Clinton has certainly endured an unending barrage of unsubstantiated criticism. As a matter of fact, Mrs. Trump cannot expect to be a public personae who is somehow exempt from scrutiny. Thank you Ms. Ioffe, for standing up for freedom of the press.
Labels: GO, Julia Ioffe, The Guardian