Bring Back Our Girls - "ode to the victims"
First Lady of the United States Michelle Obama calls on the world to save the women who were brutally kidnapped by the cruel extremist group Boko Haram. Tragically, their abduction is not an isolated travesty of human rights. Abductions are happening routinely. One photographer has published portraits of the Boko Haram victims who escaped their captivity.
Maine Writer: Evil is the root cause of violence against women and the oppression against their education, in my opinion.
By Helena Cavendish de Moura, Special to CNN

But according to photojournalist Andy Spyra, "the Chibok girls (are) just the tip of the iceberg; what happened there is what happens on

a nearly daily basis

."

Spyra has been documenting the return of abducted women in Nigeria, their dangerous journeys and their difficult reintroduction to society.
In July, Spyra traveled to Yola, the capital of the northeastern state of Adamawa and the front lines of the government's war against Boko Haram. There, he and reporter Wolfgang Bauer talked with women who had survived the brutality and torture of the Islamic militant group.

"I was moved by the strength of the women ... you would sometimes just listen to their stories and be overwhelmed by it, what they would tell you," Spyra said.
When their story was published in Zeit, a German magazine, the journalists also included a call for help: Please help us create a fund to help these women.

"I had this wish to come back and help them in a real concrete way, to come back with something physical in my hands to give back to them," Spyra said.

His wish was granted.

The response "got pretty big," Spyra said, and in January they went back to help these women set up bank accounts.

Spyra soon found himself on the phone more than behind the camera. Delivering money to these women who

live in one of the world's most dangerous areas

seemed quixotic at first. But it worked.

"It was all teamwork," Spyra said. "I had a local fixer in Yola who helped identify former Boko Haram victims. The security was tricky even for him. It took some time, at least six months, until he gave us a list of 72 women near the Sambisa Forest."
The women were put on a bus, and every detail was taken care of to avoid attention from potential suicide bombers. The women were even patted down and walked through a metal detector.

"It was such a sensitive issue for these women," Spyra said. "They had never seen a white man before, and what a cultural gap there was. And at the same time I felt connected to them on a human level, an emotional level."

But before organizing their finances, Spyra wanted to immortalize their stories through what he knew how to do best.

Photographing

them this time, however, would be tricky for security reasons. He had to shield them from potential eavesdroppers and avoid attracting attention.

With a piece of black cloth, a few rags and a little chair, Spyra created a makeshift studio at a church compound.
There, one by one, dozens of women would sit in front of the camera and tell their personal stories of survival.
"We heard stories of dead bodies and mass graves, the others in the forest of people who didn't make it," Spyra said. "There were snakes and scorpions, rivers that you had to cross where thousands of women have died in their attempt to flee.
These women are really strong and really tough, and how they did it, I don't know."
Spyra said "i

n some cases, they escaped during bombardment of Boko Haram-held villages

. Some of them scaled fences. Some of them had smart ideas about saying they were going to the market, and they just ran off."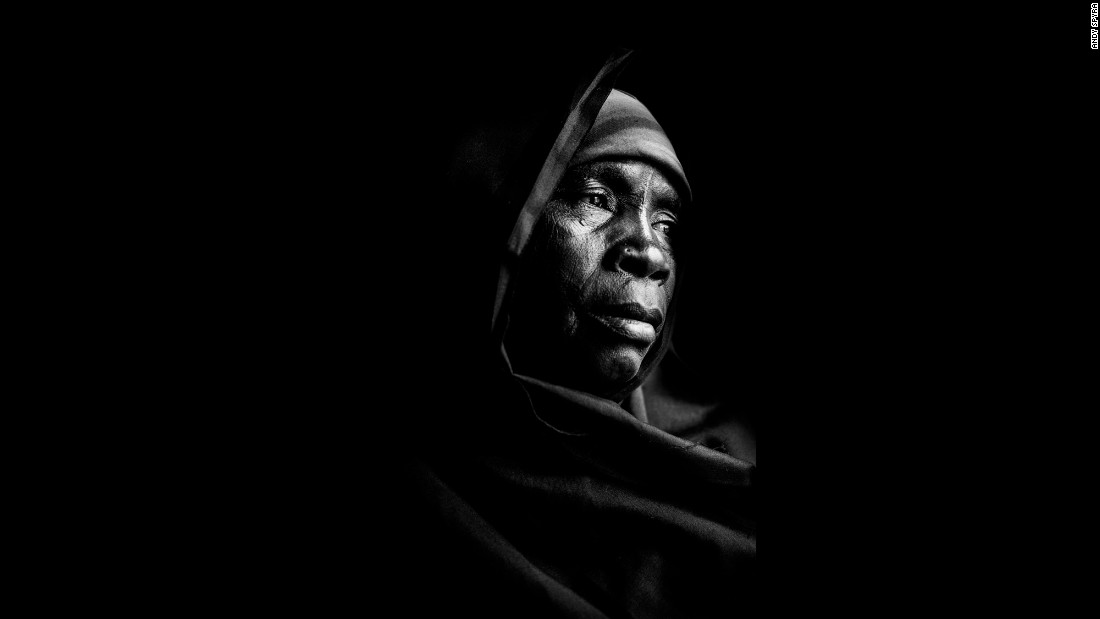 Boko Haram victim included in Spyra potraits
The resulting photo series is an

ode to the victims

, their forgotten odysseys, their

loss of childhood

and the difficult road ahead.
Partially lit in natural light and enveloped by a heavy black background like a penumbra, their faces -- especially their eyes -- reflect something they are holding very deep. The economy of lighting emphasizes the scars, the gaze and the discreet expressions of the humanity that has survived so much pain. It is the art of portraiture, something Spyra confessed he knew nothing about.
"I was sweating like hell, not because of the heat in Nigeria, but because I was nervous because I had never had a portrait assignment," he said.
"This was my first attempt. This is how I could best convey their characters and their personalities. They were radiating, they were strong personalities. I was impressed by their presence after all they had been through, so strong and confident. It really was powerful."

Andy Spyra is a photographer based in Germany. You can follow him on Facebook
.
Labels: Andy Sprya, Michelle Obama