Pope Francis pleads for desperate refugees
Refugees desperately fleeing Syrian carnage are causing chaos in Europe, while their plight worsens and world leaders wring their collective hands about how to solve the crises.
W
armer water temperature will raise the refugee numbers.
It's possible a human tsunami of refugees are likely to invade the shores of Europe, as spring and summer improve Aegean Sea water temperatures, making crossing from Greece to Turkey somewhat less risky. It seems to me, these refugees have nothing to loose by creating a proverbial flotilla of boats, loaded with desperate people, who are seeking political asylum from Syrian war, tyranny and oppression. Yet, I also believe the refugees have little to loose by organizing a mass migration back to their Syrian homeland. Nevertheless, they are now committed to migrate from Greece and to move north to Europe.
Unfortunately, the welcome gates in Europe are now closing to the refugees. Although their plight is increasingly desperate, the truth is, the root cause of their crises is the Syrian President Assad. One man is the root cause of this carnage because he refuses to help his own nation and people. In fact, Assad is guilty of genocide against his own Syrian people. He will eventually be tried and convicted or war crimes, living or dead.
Meanwhile, Pope Francis in the Vatican is calling on the world to help. Tragically, nothing appears to be happening.
Yet, it's Easter, a season of hope and Pope Francis is trying again:
Pope's message condemns failure to help migrants:

Pope Francis condemned those who fail to help migrants, during his traditional

Easter speech in Rome

.

The Pope said migrants often met "rejection from those who could offer them welcome and assistance".

He also condemned terrorism as "a blind and brutal violence" that should be fought with "weapons of love".

The Pope was delivering his "urbi et orbi" (To the city and the world) message to thousands amid tight security in St Peter's Square.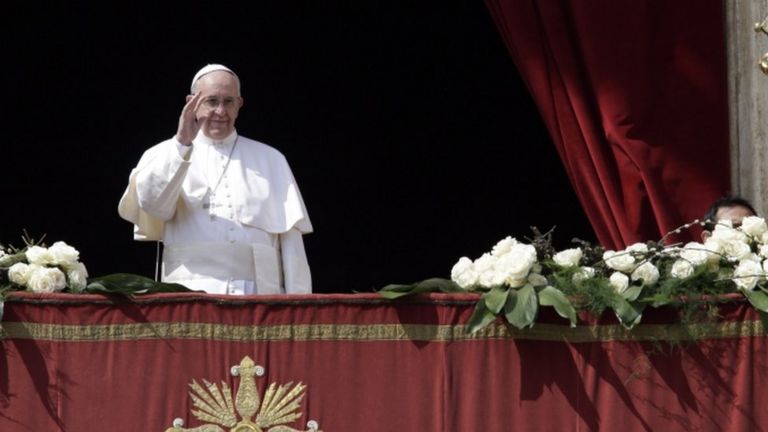 Pope Francis prays for the Syrian migrants and refugees



Syrian prayer:
A Prayer For The People Of SyriaAlmighty eternal God, source of all compassion,
the promise of your mercy and saving help fills our hearts with hope.
Hear the cries of the people of Syria;
bring healing to those suffering from the violence,
and comfort to those mourning the dead.
Empower and encourage Syria's neighbors
in their care and welcome for refugees.
Convert the hearts of those who have taken up arms,
and strengthen the resolve of those committed to peace.

O God of hope and Father of mercy,
your Holy Spirit inspires us to look beyond ourselves and our own needs.
Inspire leaders to choose peace over violence
and to seek reconciliation with enemies.
Inspire the Church around the world with

compassion for the people of Syria,

and fill us with hope for a future of peace built on justice for all.
We ask this through Jesus Christ, Prince of Peace and Light of the World, who lives and reigns for ever and ever. Amen.

The Pope said: "The Easter message of the risen Christ... invites us not to forget those men and women seeking a better future, an ever more numerous throng of migrants and refugees...

fleeing from war, hunger, poverty and social injustice.
Although the Pope's message is essential to alert the world to the refugee genocide, the fact is, the same message must also include a message to Syrian President Assad.
Indeed, Assad must be told that he will be held accountable for his war crimes, dead or alive.