Thank You Shout Out to Brave Gabrielle Giffords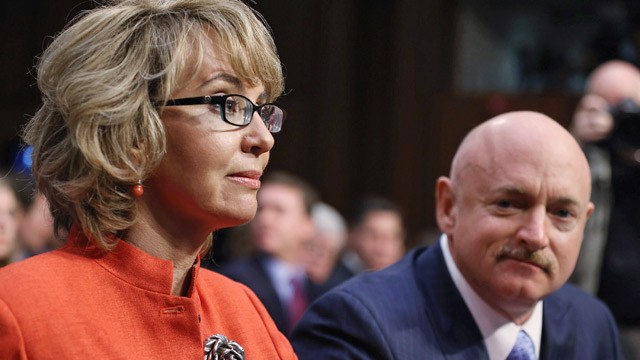 Former Arizona Rep. Gabrielle Giffords, who was seriously injured in the mass shooting that killed six people in Tucson, Ariz. two years ago, arrives on Capitol Hill in Washington with husband Mark Kelly, Jan. 30, 2013, for a hearing of the Senate Judiciary Committee hearing on gun violence.

(Chip Somodevilla/Getty Images)


Giffords joins a list of high profile victims and gun control advocates who unsuccessfully tried to convince the US Congress to take action against the National Rifle Association and pass controls on murderous assault weapons.

Former Congresswoman Gabrielle Giffords struggled with her speech when she said "too many children- too many children....", including one 9 year old girl who was among those murdered in the assault where she was seriously wounded, assaulted by a mentally ill man in Arizona.
Gifford's brave testimony was emotionally riveting.
Gifford and her husband Kelly join a growing group of innocent people who are forever impacted by firearms.
All gun related deaths and disabilities are preventable, because they are caused by guns. Without guns, these incidents can't happen.

But will Giffords' or anybody else's testimony change a majority of minds? Nearly everyone who opposes passing sensible gun control finds they're politically abandoned or faced with primary elections where they're defeated by money from the National Rifle Association.
Moreover, even the efforts of James Brady, seriously wounded in the assassination attempt wounding of President Ronald Reagan, has had little impact on gun violence.

In 1993, the Brady Bill was named for Ronald Reagan's press secretary, James Brady, who was seriously wounded in the assassination attempt on Reagan in March 1981. At least one University of Virginia researcher says the Brady Bill hasn't reduced gun violence, mostly because the US Supreme Court stuck down a chunk of it.
Doesn't it seem strange that Republicans obstruct any attempts to reinstate provisions in the Brady Bill, when the law was named for a hero who helped to save Republican Ronald Regan's life by taking a bullet?

Meanwhile, gun related tragedy continues to unfold. In an almost unbelievable Chicago incident, another young teenage girl was gunned down. She happened to be in the wrong place seeking refuge from some violent weather when she was murdered.
In a totally unbelievable tragedy, a beautiful teenager who had marched as a majorette in President Obama's inaugural parade was among the list of child victims of gun violence.
"...too many children....too many children....", said Giffords to the Senate today.
Giffords' Congressional testimony was haltingly eloquent and precise, as she explained how difficult it is for her to speak in public since recovering from her head wound.

She said, "Speaking is difficult, but I need to say something important," she told the panel chaired by Sen. Pat Leahy, D-Vt.
"Violence is a big problem. Too many children are dying. Too many children. We must do something. It will be hard, but the time is now. You must act. Be bold, be courageous, Americans are counting on you. Thank you," Giffords said before being helped out of the hearing room.

White House spokesman Jay Carney said President Obama, who has made gun control a priority, was looking forward to seeing Giffords and Kelly at the White House.

Congressional hearing were a showdown on guns, featuring two powerful but conflicting forces in the gun control movement. Giffords' husband, Kelly, also testified, but so did Wayne LaPierre, the fiery executive vice president and CEO of the National Rifle Association. Kelly was convincing, but LaPierre looked like a deer stunned by the headlights.

In spite of all the nation's gun tragedies, today's Senate hearings on gun and ammunition control were the first time these arguments have been debated before Congress, in the 21st century!

"We must be courageous....", said Giffords. I hope our US Congress are as courageous in creating sensible gun controls as she has been since recovering from her assault.
Labels: Gabrielle Gifford, Mark Kelly