General Petraeus is positioned against the National Rifle Association
Although General David Petraeus has been a conservative darling for his military expertise, he may now become a casualty of the group that once supported his political prospects. In fact, retired General Petraeus is aligning with Retired US Navy Captain Mark Kelly to support gun control regulations for veterans. This is certainly a bold position for a conservative hero who was, at one time, considered for a political career.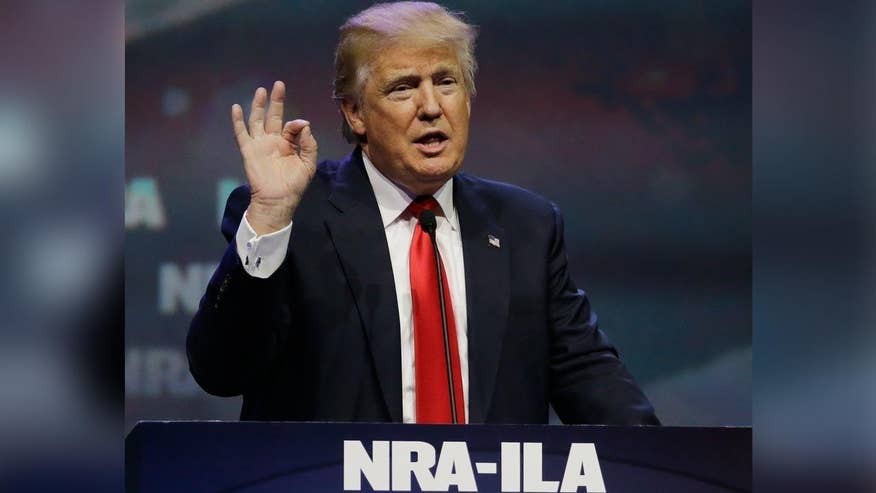 Donald Trump was endorsed with hoopla by the National Rifle Associaition (NRA), but it sure doesn't seem likely the retired General Petraeus will receive any such support if he wants to be a politician, when he has endorsed common sense gun regulations for veterans.
Obviously, it's a hopeful public policy sign to see a champion of conservative politicians take a stand in opposition to the National Rifle Association, by trying to create some common sense gun regulations. Nevertheless,
by making the decision to help Captain Kelly in this worthy endeavo,
it also seems obvious that the retired General must not be interested in his own political career. It's unlikely anybody will be writing in David Petraeus as a Republican presidential candidate, especially since the National Rifle Association created a "horses of the apocolypse" phogo media event when candidate Donald Trump was endorsed.
Gen. David Petraeus (Retired) and the retired astronaut (Captain) Mark Kelly announced Friday they are forming a new gun control group for veterans.
In fact, the

Veterans Coalition for Common Sense

will push to strengthen gun background check laws and help prevent veterans from committing suicide. It pointed to several alarming statistics about the military and gun violence. According to the Department of Veteran Affairs (VA), about

22 veterans kill themselves

each day. Since September 11, 2001,

more Americans have been killed by gun violence than combat in Iraq and Afghanistan

, according to figures from the Centers for Disease Control and Prevention.

The group will feature veterans from every branch of the military who are urging lawmakers to toughen gun laws, the organization said in a news release.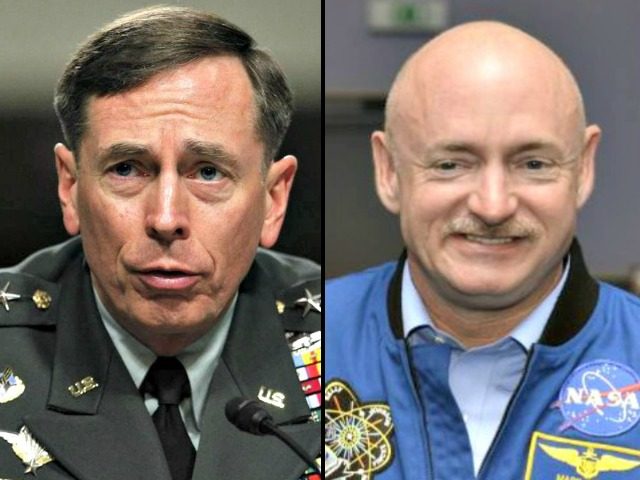 (Left) General David Petraeus (Retired) and US Navy Captain Mark Kelly (Retired) will support a gun control program to protect veterans.
"As service members, each of us swore an oath to protect our Constitution and the homeland. Now we're asking our leaders to do more to protect our rights and save lives," said Kelly, the husband of former Arizona Rep. Gabrielle Giffords and co-founder of Americans for Responsible Solutions, a group that advocates for tougher gun laws.

"Gabby and I are grateful to all of these incredible veterans and leaders who are using their voice to call for commonsense change that makes our communities safer," he added.
Petraeus isn't quoted in the release.
Petraeus, who resigned as CIA director in November 2012 when it emerged that he was having an extramarital affair with his biographer, Paula Broadwell, rarely, if ever, speaks publicly on domestic political issues.

Before the Broadwell scandal, Petraeus had been floated as a possible presidential candidate, and this week, Illinois Republican Sen. Mark Kirk said he planned to write in Petraeus this fall over Donald Trump, the presumptive GOP nominee.

A Veterans Health Administration report said nearly 70% of suicides among male veterans were committed with a firearm between 2001 and 2011.
In addition to Petraeus, former CIA director Michael Hayden and retired Thad Allen pledged to support more gun regulations.
Labels: Captainn Mark Kelly, Michael Hayden, Paula Broadwell, Thad Allen, Veterans Health Administration